In history Haydock has been named as Hedoc, 1169; Heddoch, 1170; Haidoc, 1212. and then recently called Haydock
This township has an area of 2,409 acres. (fn. 1) From its situation between Newton and Ashton it seems to have been cut off from the former township. Clipsley Brook separates it from Garswood in Ashton, and Sankey Brook forms the south-west boundary. The population in 1901 numbered 8,575.
Haydock is varied in its natural features, sometimes undulating, sometimes flat. On the west the surroundings are unpicturesque but typical of a colliery country, scattered over with pit-banks and shafts of mines. On the east the country is pleasanter, with fields and plantations, and in this part is the locally celebrated race-course of HaydockPark. Crops of oats, wheat, potatoes, and cabbages seem to be the principal produce of the clayey soil. The geological formation consists largely of the Coal Measures, but the old Haydock Park and a small area to the west of the main road leading from Newton to Ashton in Makerfield lie upon the Bunter series of the New Red Sandstone.
The principal road, all along lined with dwellings, is that from St. Helens, passing east and north-east through Blackbrook and Haydock village to meet the great north and south road from Wigan to Warrington. The Liverpool, St. Helens and South Lancashire Railway, worked by the Great Central Company, passes through the township, and has a station at Haydock; and two others, called Ashton in Makerfield and Haydock Park, on the boundary of Ashton. An electric tramway service connects it with St. Helens. The St. Helens Canal goes by the side of Sankey Brook.
[wp_ad_camp_1]
Coal-mining is the great industry of the place.
A local board was formed in 1872, (fn. 2) and in 1894 became an urban district council of twelve members.
Haydock Lodge is now a lunatic asylum. A cottage hospital was opened in 1886. A stone celt was found here. (fn. 3)
MANORS
The manor of HAYDOCK was a dependency or member of the fee of Newton. (fn. 4) The first distinct notice of it is in 1168, when Orm de Haydock had paid two out of the 10 marks due from him to the aid for marrying the king's daughter. (fn. 5) He granted land called Cayley to the Hospitallers. (fn. 6) His son Alfred took a surname from Ince, in which his demesne lay; and Haydock was divided between Hugh and William de Haydock, who were in possession in 1212. (fn. 7)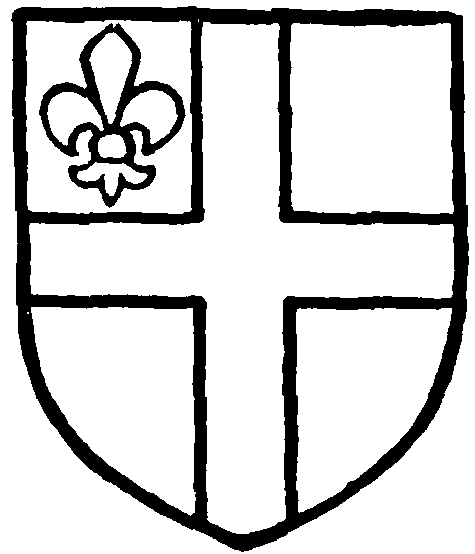 Haydock of Haydock. Argent a cross with a fleur-de-lis sable in the first quarter.
The manor was held in moieties from an early time. The later Haydock family (fn. 8) descended from Hugh. William's descendants (fn. 9) died or sold their interest in the middle of the 13th century (fn. 10) to Thurstan de Holland, whose son Robert held also, as it seems, a mesne lordship over the whole of Haydock. (fn. 11) This manor descended to the male heirs of Thurstan and his son Sir Robert, and lapsed to the Crown by the forfeiture of Henry, Duke of Exeter, in 1461. (fn. 12)
It is unlikely that the Hugh de Haydock of 1212 was the Hugh acting on inquests of 1242 and 1265; (fn. 13) more probably the latter was a son. Hugh de Haydock had a son Gilbert, who married Alice daughter of Matthew de Bold, and received lands in Bold with her. (fn. 14) Their son and heir was named Matthew, and in 1286 ten messuages, eight oxgangs and 4 acres of land in Haydock and Bold were settled on Matthew by his father, (fn. 15) and the moiety of the manor of Haydock was granted in 1292. (fn. 16) Some other acts of Gilbert's are known; (fn. 17) he seems to have died about 1300. (fn. 18)
Matthew de Haydock lived till about 1322; (fn. 19) a number of his charters are extant, (fn. 20) showing that he acquired fresh properties; one of these, in Walton le Dale, he gave to his son Hugh. (fn. 21) His son Gilbert succeeded. He had a grant of free warren in Haydock and Bradley in 1344; also leave to make a park in Haydock. (fn. 22) By his wife Emma (fn. 23) there was a numerous offspring, but elder sons, named Matthew and Gilbert, seem to have died young, (fn. 24) and the heir to the manor was John de Haydock, who was in possession by 1358. (fn. 25)
He married Joan, daughter of Sir Thomas de Dutton, (fn. 26) and died 12 December 1387, holding the moiety of the manor of Haydock and lands there of Sir John de Holland of Thorpe Watervill in socage by a rent of 17s.; holding also various lands in Newton, Golborne, and Bold. His son and heir Gilbert was thirty years of age. (fn. 27) Of Sir Gilbert's children the heir was his daughter Joan, who carried this and other manors to the family of her first husband, Peter de Legh of Lyme in Cheshire. (fn. 28) She afterwards married Sir Richard de Molyneux of Sefton, and her tomb is in Sefton Church. (fn. 29) The manor has since remained a part of the Legh inheritance, (fn. 30) Lord Newton being the present lord as well as chief landowner. (fn. 31)
Numerous other branches of the Haydock family (fn. 32) and minor holders existed in the 13th and 14th centuries. (fn. 33) No resident freeholders are named in the lists of 1556, 1600, and 1628.
The Ven. Edmund Arrowsmith, S.J., executed for his priesthood at Lancaster in 1628, was born in Haydock. (fn. 34)Katherine Arrowsmith, a leaseholder under Sir Peter Legh, had two-thirds of her tenement sequestered by the Commonwealth authorities for her recusancy; Thurstan her son, 'a Protestant and conformable,' claimed it in 1652, and it was allowed him on his taking the oath of abjuration. (fn. 35) Thurstan Callan and Mary his mother, widow of William Callan, in 1717 as 'papists' registered their estate in the house called Blackbrook. (fn. 36)
The Hospitallers' estate at CAYLEY was held by Guy Holland about 1540. (fn. 37) The Holland family had other estates in the same part of Haydock. (fn. 38)
In connexion with the Established Church St. James's was built in 1866; (fn. 39) there is a mission chapel called St. Mark's. The rector of Ashton in Makerfield is the patron.
A Wesleyan Methodist chapel was built in 1846; and a Primitive Methodist one in 1875. The Baptists have a place of worship, erected in 1876. A Congregational church was built in 1892 by Miss Ruth Evans, in memory of her brother Joseph, one of the colliery owners of the district. (fn. 40)
The Roman Catholic school-chapel of the English Martyrs was opened in 1879; it was at first served from Blackbrook, St. Helens, but a resident priest was appointed in 1887. (fn. 41)
Footnotes
Townships: Haydock