There is not in dear Newton a picture so pretty
As the green rocky dean at the north of the town;
Oh, the sight of this valley inspires a sweet ditty,
Of sprightliest measure, its beauties to crown.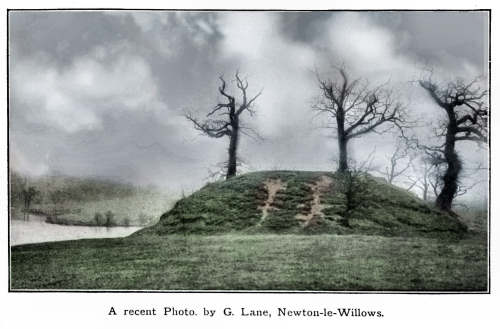 From the old Castle Hill to the Lady Hill stretching,
What a sylvan display greets the visitors eye!
A succession of scenes worth an artistic sketching
In bright colours to equal the bow in the sky.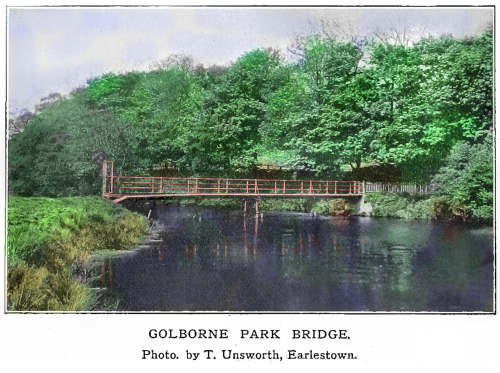 First the bridge oer the lake claims the life-limning brushes,
With its background of trees on the Golborne domain;
Next the head of the lake with its reeds and its rushes,
And the bank of tall beeches oershading the lane.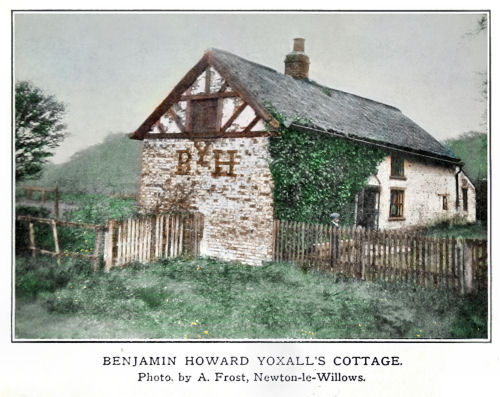 Then the B Y H house, at the top of the Hollows,
And the green sloping meadow with kine dotted oer,
Where sweep the swift wings of the fly-hunting swallows,
And where grow the trim ash and the broad sycamore.
Then the well with its volume of sweet water flowing,
And the bridge in the Hollows a picture demand,
And the tall chestnut-tree at the wood-corner growing,
And the verdure-clad banks of bright-red rocky sand.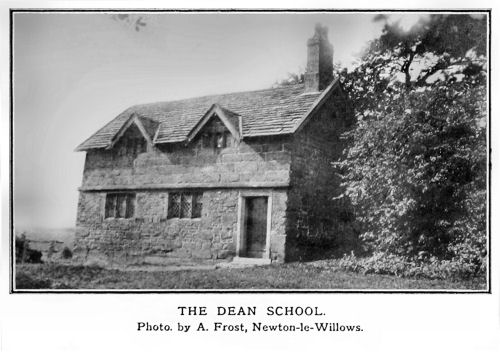 Then the ancient free school, by John Stirrup erected,
With its sculptured quotation from wise Solomon,
And the words oer the entrance, so often inspected,
Which record the kind action of worthy old John.
Then the path by the moor oer the little bridge leading,
Through the bloom-scented dell with its summer-decked trees,
And its clear, purling brook by the Wishing Well speeding,
Its melodious birds and its murmuring bees.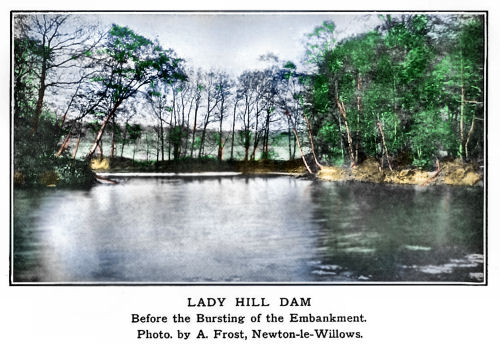 Then the dam claims the art of the painter or poet,
With its bank of pink blossoms on carpets of blue,
And the white floating lilies reflected below it,
And the tall shady trees with the sun glinting through.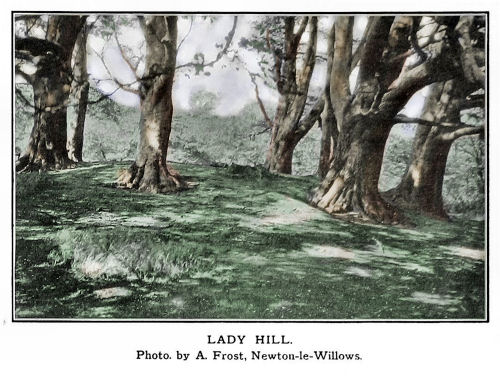 Last the old Lady Hill, where methinks the Archdruid
Cut the mistletoe bough with his sickle of gold,
And outpoured his libations of rich crimson fluid
To the sun and the moon and his gods manifold.
J. H. Lane.
---
This version transcribed ©2005 by Steven Dowd for use in the Newton le Willows website from the 1916 Vol II, History of Newton in Makerfield by J H Lane.
---