Heres some history for the Curzon Cinema, which I have transcribed from an original opening day booklet. Since the Curzon is now but a burned out shell I thought it appropriate to add some history on the building into the website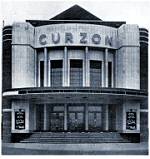 OPENING CEREMONY
At 6.15 p.m. on Monday the 28th of October, 1935.
The Managing Director will introduce Mrs. Frank Haslam, who has kindly consented to open the Curzon Luxury Cinema. Following the Opening Ceremony, a bouquet will be presented to Mrs. Haslam by Miss Houghton. On behalf of the Directors of the South Lancashire Hippdodrome Co. Ltd., the Managing Director will present a souvenir of the occasion to Mrs. Haslam in the form of a solid gold cigarette case.
Councillor MRS. E. CROUCHLEY, J.P., Chairman of the Council, will preside.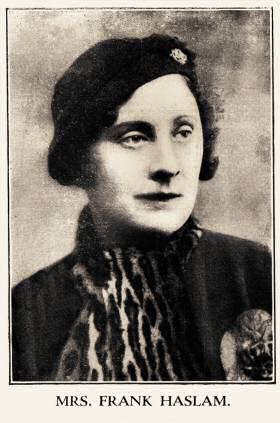 FOREWORD
It is to commemorate the first opening of the Curzon Luxury Cinema that this brochure has been compiled and the Directors – trust that you will accept it as a warm and sincere welcome to the opening and as an assurance that they and every member of the staff will spare no effort to provide for your comfort and pleasure.
From the evolution of an idea to provide the residents of Earlestown, Newton and district with a modern, comfortable and well appointed house of entertainment, the Curzon Cinema has taken a tangible form. Its construction represents the welding together of skilled technicians, solid labour and British materials, and the management would therefore like to place on record their appreciation of the services rendered by the architect, Mr. W. T. Harrison, the general contractors, Messrs. Frank Haslam Ltd., and all those who in a large or small way have contributed towards the construction of this cinema.
All the finer details of construction and equipment which are necessary in modern cinema practise have been incorporated in the Curzon and it is felt that in its construction, both present and future requirements are adequately met. The Curzon offers you luxurious seating, superb carpeting, tasteful decoration, modern lighting and, most important of all, unrivalled sight lines and sound.
The Curzon Cinema is now ready to provide you with 100 entertainment.
The Curzon Cinema. . Earlestown
Owned and controlled by THE SOUTH LANCASHIRE HIPPODROME CO.
DIRECTORATE:-
Fred Harrison (Chairman and Managing Director),
Alfred Harvey,
Harold Houghton (Secretary),
Charles Frederick Porter,
Charles Herbert Sankey,
Thomas Smith (Manager).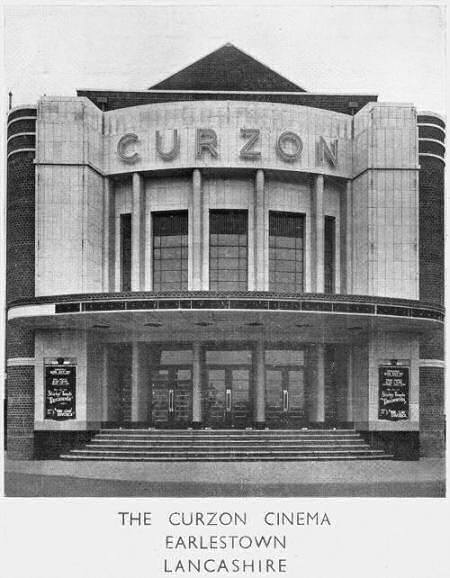 CONSTRUCTION
The Curzon Cinema occupies an island site adjoining the L.M.S. Station at Earlestown and considerable attention has therefore been given to external design.
The exterior presents a striking and original facade in cream faience tiling supplied by Rainford Potteries Ltd. It is flanked by warm toned rustic brickwork and terra cotta dressings. The canopy above the front entrance is a note-worthy feature and a novel arrangement of Neon lighting ensures adequate exterior illumination at night. The structure is steel framed with British steel supplied by Messrs. Fleming Bros. of Glasgow, and lined with bricks manufactured by the Bickershaw Collieries Ltd., of Leigh.
Upon entering the spacious hall an impression of clean, modernist treatment already conveyed by the front elevation is carried a step further in the planning and decoration of the entrance hall. Wall decorations and lighting features tone admirably with the main theme. The electrical contract, lighting, etc., has been carried out by W. H. Smith (Electrical Engineers) Ltd., of Manchester.
The Curzon has been designed in accordance with the latest requirements, and particularly does this apply to the exits, there being 12 in all, the Directors realizing that the safety of patrons is of paramount importance. The fire-fighting apparatus is of the latest and most efficient type and has been manufactured by Pyrene Ltd., of London, and installed by Messrs. Woolfall and Rimmer, of Southport, who have also carried through the entire plumbing contract. Ample lavatory accommodation has been provided in all parts of the cinema All tiled walls and Terrazzo floors of modern design have been supplied and fixed by the Carrara Marble Co., of Liverpool. Most parts of the cinema have been carpeted, and give an air of cosiness and luxury, whilst the deep pile prevents unnecessary noise during performances. The carpet is of modern design in shades of green, silver and black.
Throughout the building of the Curzon a conscientious effort has been made at collaboration between experts representing the various professions, trades and industries in order that it may adequately cover all requirements.
The Curzon Cinema was built by FRANK HASLAM LIMITED, PUBLIC WORKS CONTRACTORS, DONCASTER
RECENT SIMILAR CONTRACTS INCLUDE :-
The original MAJESTIC Doncaster
The PICTURE HOUSE Balby
UPTON CINEMA Pontefract
CINEMA at South Elmsall
SAVOY St. Helens
The AUDITORIUM
The entrance foyer is spacious and inviting and has been designed to create an atmosphere of luxury to all who enter.
The walls have been panelled in richly figured maple with walnut cross bands, supplied and fixed by Brewitt & Son, of Doncaster, while the rubber flooring, supplied by the Leyland and Birmingham Rubber Co. Ltd., is of distinctive modern pattern. At either side of the foyer twin staircases lead to the balcony foyer. Facing the main entrance doors, which are decorated in black and silver cellulose, are the entrances to the stalls.
The Auditorium will create an impression on all who enter. Accommodation is provided for 1,250 people, approximately 850 in the stalls and 400 in the balcony. Each seat has ample knee space and is luxuriously sprung and upholstered in material which harmonizes with the general scheme of decoration. The seating, which is by C. R. Harrison & Son Ltd., of Newton-le-Willows, incorporates the latest method of springing and inclination with a positive assurance of case and comfort during a long performance. Everything has been done to ensure the absolute comfort and convenience of the audience.
The fibrous plaster modelling, supplied by Messrs. Webster, Davidson & Co. Ltd., of Sunderland, and also the decoration, executed by the well-known firm of Messrs. G. F. Holding Ltd., represent a charming example of modern treatment. The decorations have been carried out in warm shaded tones of cream, enriched with delicate pastel shades of green, silver and rose.
The walls and ceiling throughout, above the oak dado, being lined with special material having remarkable acoustic properties, ensure perfect reproduction of music and speech.
A three-colour lighting system is employed over the proscenium and within the stage opening, thus affording exquisite colour sequences on the stage drapings. Over the balcony a champagne-tinted light throws a soft but clear glow over the Auditorium and ensures a permanent colour scheme.
The heating of the Auditorium is by an accelerated low pressure hot water system, while an adequate supply of fresh air is provided by means of powerful exhaust fans in the roof space and under the balcony. This installation has been supplied and fixed by Messrs. Arthur Roberts, of West Derby, Liverpool.
The Manager says . .
My Dear Patron and Friend,
I welcome you to the New " Curzon " Luxury Cinema, a cinema built regardless of cost for your entertainment and pleasure.
Personally, I feel proud to have the management of such a cinema, for it has long been my ambition that Earlestown should possess such a place of wonderment. Firstly, it will be my whole time study to cater for your requirements in the way of entertainment. Every picture presented will be selected from the best film markets of the world. Special thought will also be given to our supporting pro-grammes, for they shall provide comedy, interest, cartoon and topical news items.
I have not lost sight of the fact that several of my patrons will like to see a Stage Vaudeville Scena. That shall be done, but only when first-class artistes are available. I want to impress upon you that once you have paid a visit to the " Curzon " Luxury Cinema you will always continue to do so, merely on the fact that a first-class programme will always he presented.
Remember, at all times the management and staff are at your service. We shall do all in our power to make the " Curzon " Luxury Cinema worthy of the districts of Earlestown and Newton.
The Directors of the " Curzon " Cinema have accomplished their task. The cinema is built, but it is left entirely in your hands whether or not the venture will he a successful one.
With best wishes,
I remain, yours respectfully,
Fred. Harrison. Snr., Managing Director.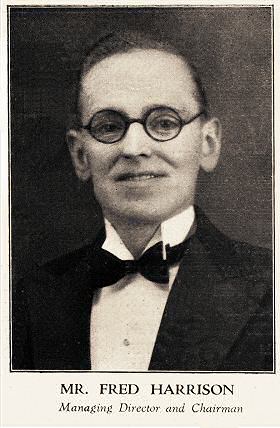 Forthcoming Attractions include:-
NAUGHTY NANETTA
with Jeanette MacDonald
ONE MORE SPRING
with Janet Gaynor
DEVIL DOGS OF THE AIR
with An All Star Cast
OFF THE DOLE
with George Formby
SCARLET PIMPERNEL
with Leslie Howard.
LOOK UP AND LAUGH
with Gracie Fields
FIGHTING STOCK
with Tom Walls and Ralph Lynn
39 STEPS
with A Distinguished Cast
BREWSTERS MILLIONS
with Jack Buchanan, BECKY SHARPE
All in Natural Colour
The Builders
The erection of the Curzon Cinema was entrusted to the well-known Don-caster firm of Messrs. Frank Haslam Ltd. One of the principal points of interest in connection with this luxury cinema is the astounding speed in which it has been erected, only six and a half months having passed since the commencement of the work. This firm have been responsible for several cinemas, including the recently-opened Savoy at St. Helens. The general foreman, Mr. George Kidger, is to be complimented upon his efficient handling of the work.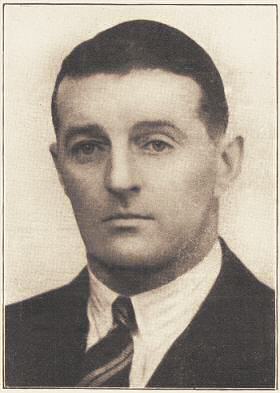 Mr. FRANK HASLAM.
The Architect
MR. WILLIAM T. HARRISON, of Regent Chambers, Hall Cross, Doncaster, whose facility and experience in the intricate detail work and necessary organization has contributed much to the successful completion of this luxury palace of entertainment.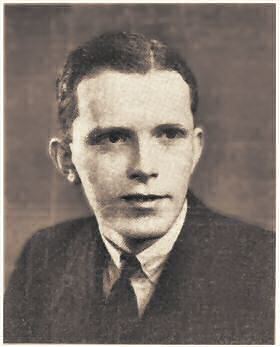 MR. WILLIAM T. HARRISON.
Technical Details
The Curzon Cinema is fitted with the latest equipment and every-thing has been done to ensure the operators performing their duties in comfort and safety.
Sound Equipment
The sound equipment installed is the most up-to-date type.
It is particularly gratifying to know that an all-British company is now in a position to instal equipment without equal in the world. The equipment is far too complicated to describe in this brief space, but all patrons who are interested in sound recording are welcome to inspect the installation. The sound reproduced will be perfectly natural and the apparatus provided is capable of reproducing all sounds without distortion.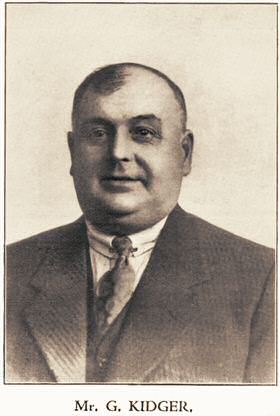 GENERAL CONTRACTORS:-
Messrs. Frank Haslam, Ltd., Regent Chambers, Hall Cross, Doncaster.
SUB-CONTRACTORS:-
Metal Windows – Crittalls Manufacturing Co. Ltd., Talbot Road, Stretford, Manchester.
Terra Cotta – Rainford Potteries Ltd., Rainford, Lanes.
Facing Bricks – Huncoat Brickworks, Huncoat, Accrington.
Common Bricks – Bickershaw Collieries Ltd., Leigh, Lancs.
Steelwork ? Fleming Bros. 49, Bath Street, Glasgow.
Plumbing – Woolfall and Rimmer, 71, London Street, Southport.
Neon – Ironlitt Ltd., 11, North Road, Preston.
Ironmongery and Handrails – Alfred Brown, City Lock Works, Soven Street, Birmingham.
Flush Doors – W. Duncan Potter, Westminster Building, High Street, Doncaster.
Decorating – G. F. Holding Ltd., 11, Withington Road, Brookss Bar, Manchester, 16.
Seating – C. R. Harrison & Sons, Newton-le-Willows, Lancs.
Carpets – Hampton & Sons Ltd. Pall Mall East, London,
Stage Curtains – Reed, Treleaven and Co., Suffolk House, Whitfield Place, Whitfield Street, London, w.1.
Fibrous and Solid Plasterwork ? Webster, Davidson & Co. Ltd., Waterworks Road, Sunderland.
Rubber Flooring ? Leyland and Birmingham Rubber Co. Ltd., Leyland, Lancs.
Wall and Floor Tiling – Carrara Marble Co. Ltd., 4, Crammer street, LLiverpool.
Heating and Ventilating – Arthur Roberts, West Derby, Liverpool.
Canopy – Hughes & Ellison, Park Lane Iron Works, Park Lane, Liverpool.
Electric Installation – W. H. Smith and Co. Ltd., York House, 17, Fountain Street, Manchester.
Reinforced Concrete, Flooring and Balcony – Concrete Ltd., Stour-ton, Leeds.
Projection Room
The Projection Room is claimed to be the most spacious and up-to-date in every respect. The local regulations dealing with the construction and equipment of this portion of the theatre are particularly stringent, and every care has been taken that these should he complied with, and in addition provision has been made to render these rooms more congenial to the projection-room staff and to ensure the safety of the audience.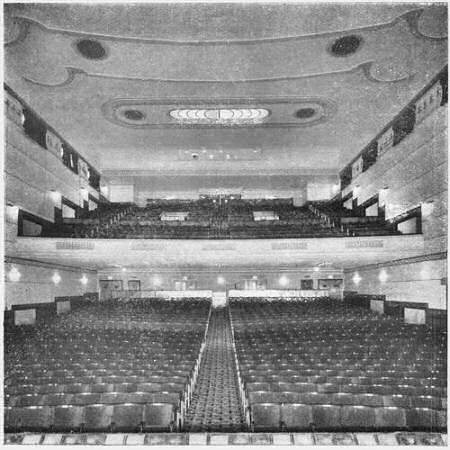 Inside the Curzon
PRICES OF ADMISSION:
GRAND CIRCLE 1s
Including Tax. bookable in advance at 1/3.
GRAND STALLS 9d.
Including Tax. Bookable in advance at no extra charge.
STALLS 6d.
Bookable in advance at no extra charge.
The management confidently appeal to all patrons to assist in preserving the amenities of this Luxurious Cinema.
OPENING PROGRAMME
MONDAY, TUESDAY, WEDNESDAY (Oct. 28th, 29th, 30th).
6.30 p.m. and 8.45 p.m.
Special Matinees: Tuesday and Wednesday 2.45.
PATHE SUPER GAZETTE.
"SHOW KIDS" Featuring The Marlow School of Dancers.
All Displayed in Gorgeous Natural Colour.
SHIRLEY TEMPLE
The Worlds most popular screen star in "BRIGHT EYES"
The picture that has captivated millions.
THE NATIONAL, ANTHEM.
TIMES OF SHOWING
Twice Nightly at 6.30 and 8.45.
Special Matinee Perlormances every Wednesday, commencing at 2.15 p.m.
Providing; that they are accompanied by a parent or Guardian, children will be admitted at the following prices: 3d, 5d., and 6d.
The Management reserve the right to refuse admiission and no money shall be returned.
---
I was loaned this original booklet from the Curzon Cinema opening day by Geoff Simm, local Historian and Author. I have transcribed the pages as best I could, Since the Curzon is now just a burned out shell it seems appropriate to add the details into the website, for those interested in some of the buildings history.
---