From the 1911 book Victoria History of the County of Lancaster Vol 4.This township is usually called Newton in Makerfield or Newton le Willows, to distinguish it from other places of the name. It has an area of 3,103 acres, (fn. 2) and the population in 1901 numbered 16,699. Sankey Brook and its tributary Newton Brook form the greater part of the southern boundary; the latter is joined by the Millingford Brook, which crosses the township from north to south.
NEWTON IN MAKERFIELD
Neweton, Dom. Bk.
Makeresfeld, 1205, 1351; Makefeld, 1206; Makerefeld, 1213; Makerfeld, 1242; the last is the prevailing form. (fn. 1)
The surface of the country is generally flat, only slightly undulating in the south and west, where theground is 142 ft. above sea level. The pebble beds of the Bunter series of the New Red Sandstone underlie the greater part of the township. The Coal Measures fringe the western and north-western borders. The town of Newton is pleasantly situated; by it is a large lake surrounded by willows.
Earlestown has the less pleasant surroundings of bare open country and few trees. The open country consists of arable fields and pasture land, the former yielding crops of potatoes and corn, with occasional turnip fields. In the west there are still a few patches of mossland, gradually becoming invaded by factories and railways.
The northern road through Warrington and Wigan, here somewhat to the east of the ancient Roman road, passes through the village. From this point roads lead eastward to Leigh and westward to St. Helens and Haydock. The St. Helens Canal goes by the side of the Sankey Brook. The Liverpool and Manchester line of the London and North Western Railway crosses the centre of the township, having stations at Earlestown and Newton. (fn. 3) The same companys main line from London to the North also passes through the township, and has a junction with the former line.
Newton, from its position on a great road, half way between Warrington and Wigan, and from its feudal dignity as the head of a hundred and then of the fee of Makerfield, has long been a place of importance. A borough was formed and a market and fairs were granted. Leland thus describes its condition about 1536: Newton on a brook; a little poor market, whereof Mr. Langton hath the name of his barony. (fn. 4) Soon afterwards it returned two members to Parliament.
The borough returned two members to Parliament in the 17th century. (fn. 5)
A gathering of the gentry at Newton in 1748, ostensibly for hunting, was regarded by the populace as a Jacobite meeting, and considerable rioting ensued. (fn. 6)
In 1824 the market had fallen into disuse; but the court baron and court leet were still held in April, May, and October by the steward of the borough and the bailiff of the manor. A race-course and cockpit existed, but the sports had been discontinued; the race-meeting was revived and is still held. The fairs were held on 17 and 18 May and 11 and 12 August. There were daily coaches to Liverpool and Bolton, and a market coach from Wigan to Warrington passed through on Wednesdays. (fn. 7)
Manufactures sprang up, cotton-spinning, crown glass, iron founding, and vitriol works existing in 1840. A large iron foundry and printing and stationery works are among the chief industries at present; there are also paper mills, glass works, and collieries.
In addition to these EARLESTOWN has grown up in recent years around the great wagon works of the London and North Western Railway Company at the Sankey Viaduct; it has also engineering works and a sugar refinery. A market is held on Friday. Two newspapers are published weekly. The railway company have erected a mechanics institute. The Vulcan Foundry has given its name to the village which has grown up round it. Wargrave is another village in the same part of the township, and Hey, by the Sankey, is near.
A local board was established in 1863. (fn. 8) Newton is now governed by an urban district council of fifteen members, the township being divided into five wards.
There is an ancient barrow called Castle Hill about half a mile north of the village. There is another at the western end of the township. St. Oswalds Well is near the junction of the boundaries of Newton, Winwick, and Southworth. (fn. 9)
There is a town hall in High Street. The Liverpool Farm Reformatory School was established in 1859. (fn. 10) The old market cross was taken down in 1819. (fn. 11) The stone uprights of the stocks remain outside the churchyard. The village wake was falling into disuse in 1836, (fn. 12) and no wakes have been held in the district for the last half-century.
Among the place names in 1824 were Pepper Alley, Wagry Moss, and Ruff House.
HUNDRED
Before the Conquest NEWTON was the head of a hundred assessed at five hides. One of the hides, including Newton itself, was held in demesne by Edward the Confessor, as lord of the manor. In 1086 the demesne was valued at ?4. (fn. 13)
BARONY
Afterwards the fee or barony of MAKERFIELD was formed, embracing much the same area as the older hundred, and Newton became the head of the barony. The story of this fee and its successive lords?Banastre, Langton, Fleetwood, and Legh?has been told elsewhere.(fn. 14)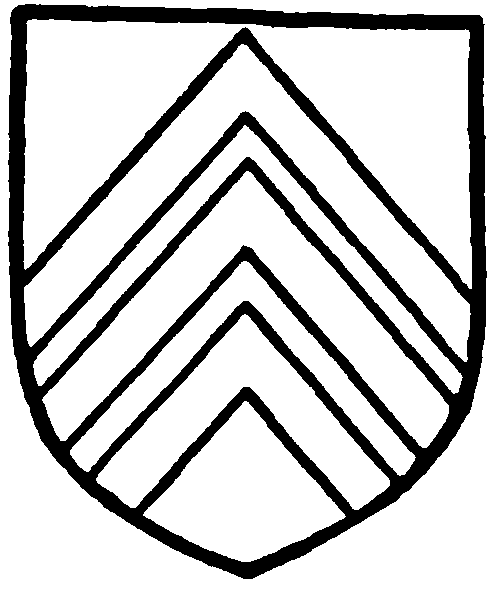 Langton. Argent three cheverons gules.
MANOR
In 1346 it was found that Sir Robert de Langton held the plough-lands in NEWTON by the service of one knights fee, paying 10s. for ward of Lancaster Castle, and doing suit at the wapentake court at West Derby every three weeks. (fn. 15) The manor of Newton, with its members, Lowton, Kenyon, Arbury, a moiety of Golborne, and the advowson of Wigan Church, was so held; the other manors of Newton ee?Southworth, Wigan, Ince, Hindley, Abram, Ashton, Pemberton, Billinge, Winstanley, Haydock, Orrell, Winwick-with-Hulme, Woolston, Poulton, Middleton, Houghton, and the other moiety of Golborne?were held by fealty only. (fn. 16) At Newton a three-weeks court was kept for the barony. (fn. 17) A grant of free warren was obtained by Robert Banastre in 1257, (fn. 18) and licence to crenellate his mansion by Robert de Langton in 1341. (fn. 19) Manorial rights are still claimed, but no court has been held for many years.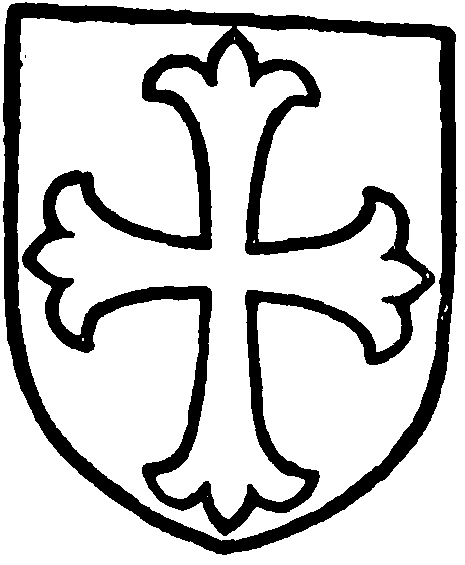 Banastre. Argent a cross patonce sable.
A number of grants by the Banastres and Langtons (fn. 20) have been preserved.
A resident family or families took the local name; one of them in the time of Edward III was known as Richard the Receiver, from the office he held under the lord of the fee. (fn. 21) Another also had an official name?Serjeant; the family remained here down to the end of the 17th century. (fn. 22) Among the other families were those of Bingley (fn. 23) and Pierpoint. (fn. 24) Neighbouring lords, as those of Haydock, (fn. 25) also acquired lands in Newton; the Leghs, besides inheriting the Haydock estate, went on adding to it, so that in 1660, when Richard Legh purchased the barony, he already owned a large part of the township. (fn. 26)
The Blackburnes, afterwards of Orford and Hale, acquired lands here in the latter part of the 16th century. (fn. 27) Their house, known more recently as Newton Hall, was built by Thomas Blackburne in 1634. (fn. 28) About a century ago John Blackburne, M.P., sold it to the Leghs. (fn. 29)
Newton le Willows Hall is a small H-shaped house standing north and south, with hall between living rooms and kitchen. The front is towards the east, the entrance being by a two-story timber porch opening to a lobby between the hall and kitchen. The hall is also of timber construction, with a line of windows on the east, and has a large fireplace at the north end with the royal arms of Elizabeth. The staircase starts from the middle of the west side of the hall, and a panel above it. There are rooms over the hall, it has a flat plaster ceiling, with simply moulded beams. The north wing, containing the kitchen with a large fireplace adjoining that of the hall, is of brick, with low mullioned windows and plain round-headed lights. The heads and mullions are of brick plastered, ornamented with raised lozenges and fleurs-de-lys. The wall surfaces are relieved with raised patterns in brick-work of a simple character. The south wing has similar details, but is modernized.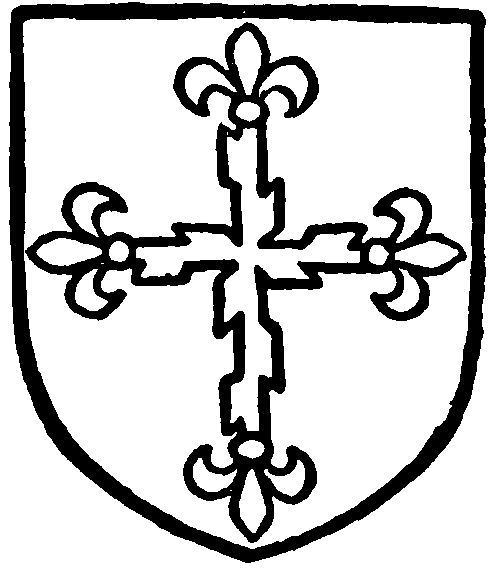 Bretherton of the Hey. Argent a cross patonce raguled sable.
The little estate of HEY, sometimes called a manor, appears to have been held by a family so surnamed, (fn. 30) who were succeeded by the Brethertons or Brothertons, the tenants from the 16th century to the beginning of the 19th. (fn. 31) A pedigree was recorded in 1664. (fn. 32) The landowners contributing to the subsidy about 1556 were William Bretherton, John Maddock, William Serjeant, and Richard Wood. (fn. 33) In 1600 the resident freeholders were given as William Green, John Maddock, Philip Mainwaring, George Sorocold, John Tunstall, and Roger Wood. (fn. 34) The landowning contributors to the subsidy of 1628 were John Bretherton, the wife of James Eden, William Morris, James Maddock, and Thomas Serjeant. (fn. 35) To the land tax in 1787 the chief contributors were Peter Legh, ? Brotherton, William Bankes, and ? Blackburne.
Some of the inhabitants had their estates sequestered by the Commonwealth authorities. (fn. 36)
Among various place-names occurring in the charters may be recorded Apshaw, Heald, Kirkacre, and Pipersfield.
BOROUGH
At an early date a borough was created, but the charter does not seem to have been preserved. The typical burgage consisted of a house with its toft, and an acre of land; a small rent was payable. (fn. 37) From 1559 to 1832 it returned two members of Parliament; the electors, according to a decision in 1797, were the freemen or burgesses, that is any persons seised of a corporeal estate of freehold in any house, building or lands within the borough of the value of 40s. a year and upwards; in the case of a joint tenancy only one person could vote. (fn. 38) In practice Newton was a close borough, the members being nominees of the lord of the manor.
A market and two fairs were in 1301 granted by Edward I to John de Langton; the market was to be held every Saturday, and the fairs on the eve, day, and morrow of St. John ante Portam Latinam (6 May) and of St. Germain (31 July). (fn. 39)
CHURCH
Although in 1066 the church of the manor was at Wigan, about 6 miles to the north, there may have been also a domestic chapel at the royal manor house. In the early part of the reign of Edward I, Robert Banastre, lord of Makerfield, granted a rent of 12d. a year for the maintenance of the lamp of St. Mary in Winwick Church, as an acknowledgement of the permission he had received to endow a chantry in his chapel of Rokeden. This permission was granted by the prior and canons of Nostell, as patrons of Winwick, in 1285; the usual stipulation was made?that nothing should be done to the injury of the parish church. (fn. 40) Licence was granted or renewed by the Bishop of Lichfield in 1405 for service in the chapel at Rokeden. (fn. 41) In 1534 John Dunster was chaplain. (fn. 42) He was in 1548 celebrating for the souls of his founders. (fn. 43)
After the suppression of the chantry Dunster was allowed a pension and continued to reside. He appears to have conformed in 1562, but next year was absent from the visitation; (fn. 44) he was buried at Winwick in 1571. Ten years later there was a curate at Newton of scandalous character; (fn. 45) in 1590 the curate was no preacher, (fn. 46) and two years afterwards there was no surplice for the minister. (fn. 47) About 1610 it was stated that there was seldom a curate, the stipend being but small. (fn. 48) It is probable that here, as in other chapelries, the legal services were more or less regularly conducted by a reading minister. (fn. 49)
An improvement took place in the 17th century. A regular curate seems to have been appointed; the Commonwealth Surveyors in 1650 found that Richard Blackburne had given ?20 a year for a preaching minister, and recommended that Newton should be made a separate parish; the tithes of the township, worth ?60 a year, had been appropriated to the ministers use. (fn. 50) This arrangement would cease at the Restoration, but Bishop Gastrell in 1718 found the curates income to be over ?38. (fn. 51) The chapel, now called St. Peters, was rebuilt in 1684, consecrated in 1735, and enlarged in 1819 and 1835. The township became a separate rectory in 1841, the Earl of Derby being patron; but Emmanuel Church, Wargrave, built in that year, was made the parish church instead of the old chapel. (fn. 52) The latter had a district assigned to it in 1845; (fn. 53) Lord Newton is patron.
ST. PETERS CHURCH
ST. PETERS CHURCH stands at the east end of the long and wide village street, and is a modern building with chancel, north and south chapels and north vestry, nave and aisles with porches at the west ends of the aisles, and a west tower. A few mural tablets from the old church are preserved, and the wrought-iron altar-rails are of 18th-century style, but otherwise, all the fittings, oak screens and seats and alabaster pulpit, &c., are modern.
The following is a list of curates and vicars:?
oc.
1622
? Gee (fn. 54)
?
1635
William Thompson (fn. 55)
oc.
1645
Thomas Norman (fn. 56)
oc.
1650
Thomas Blackburne (fn. 57)
oc.
1684
Samuel Needham, B.A. (fn. 58) (St. Johns Coll. Camb.)
1686
Edward Allanson, M.A. (fn. 59) (Magdalene Coll. Camb.)
1735
Philip Naylor, B.A. (fn. 60) (Trinity Coll. Camb.)
?
Ashburnham Legh, M.A. (fn. 61) (Brasenose Coll. and All Souls, Oxf.)
1775
John Garton, M.A. (Brasenose Coll. Oxf.)
oc.
1806?13
Francis Bryan (fn. 62)
?
Robert Barlow
1823
Peter Legh, B.A. (fn. 63) (Trinity Coll. Camb.)
1864
Thomas Whitley, M.A. (Emman. Coll. Camb.)
1871
Herbert Monk, M.A. (Trin. Coll. Camb.)
1898
James Ryder
The church of St. John the Baptist at Earlestown was built in 1878, and had a district assigned to it in 1879. (fn. 64) The rector of Newton is patron.
A school, called Dean School, was built in 1646 by John Stirrup. (fn. 65)
The Wesleyan Methodists have a church, Brunswick, at Earlestown; and the Primitive Methodists also have one there. The Welsh Calvinistic Methodists have a place of worship at Earlestown; as also have the Welsh Baptists. The English Baptists have a chapel in Newton, where there is also a Free Gospel mission room.
Occasional preaching by Congregational ministers began in 1806, the steps of the town cross being the pulpit till the constable interfered, but there was no chapel till 1842. A new church was built in 1878, largely through the benefactions of the family of Richard Evans, the great colliery proprietors. (fn. 66) In the churchyard is a fine monument of Mr. Evans erected by his workpeople.
The Roman Catholic church of St. Mary and St. John, built in 1864, originated about three years earlier. (fn. 67)
---
Footnotes
1
The phrase Two Makerfields as the name of a piece of land occurs in an Ashton document; End. Char. Rep.
2
3,105, including 55 of inland water; census of 1901.
3
It was at Parkside, to the east of Newton, that William Huskisson, M.P., was killed at the opening of the line in 1830. The Sankey Viaduct is near.
4
Itin. vii, 47; the words on a brook called Golforden (? Golborne) seem to belong to this sentence.
5
Ret. of Memb. of Parl. 1213?1702, p. 536.
6
Lancs. and Ches. Antiq. Notes, ii, 157.
7
Baines, Lancs. Dir. 1825, ii, 433?5. Fairs in May and Aug. were held in 1836; others had fallen into oblivion; Baines, Lancs. (ed. 1836), iii, 647.
8
Lond. Gaz. 8 Dec. 1863; 18 June 1869.
9
See V.C.H. Lancs. i, 366 n.
10
Lond. Gaz. 12 Apr. 1859.
11
Baines, Lancs. (ed. 1836), iii, 647; a handsome cross, the shaft on the model of Cleopatras Needle, was in the cemetery; ibid.
Newton Cross was the scene of an interview between a Haydock man, who had been to the smith at Hulme with some plough irons, and the spirit of his departed mistress, who begged him to have masses said for her in her torment; from a Narracio de celebracione Misse by Mr. Ric. Puttes, 1372, in Trin. Coll. Oxf. MS. vij, fol. 49, kindly transcribed by the Rev. H. E. D. Blakiston, B.D., fellow and tutor.
12
Baines, Lancs. loc. cit.
13
V.C.H. Lancs. i, 286. About 1141 Randle Gernons, Earl of Chester, confirmed a grant of the demesne tithes of Newton to the abbey of Shrewsbury, which appears to have been first made by Roger of Poitou; Farrer, Lancs. Pipe R. 277.
14
V.C.H. Lancs. i, 366?75. For a manumission of villeins by Robert Banastre in 1256 see Final Conc. (Rec. Soc. Lancs. and Ches.), i, 125. A deed of sale of the barony of Newton in 1594, Thomas Langton being vendor and Thomas Fleetwood purchaser, is printed in Local Glean. Lancs. and Ches. ii, 184.
15
Surv. of 1346 (Chet. Soc.), 36.
16
Dep. Keepers Rep. xxxiii, App. 6, 17; also Lancs. Inq. p.m. (Chet. Soc.), ii, 99.
17
Assize R. 404, m. 412. The 15th-century description of the tenure does not agree with the survey of 1212, by which the lords of Lowton and Golborne were found to be charged with the knights service of the fee; Lancs. Inq. and Extents (Rec. Soc. Lancs. and Ches.), i, 73, 74. In 1201 Adam de Lawton and Thomas de Golborne had rendered account for 2 marks due for the fee of one knight; Lancs. Pipe R. 133. About the middle of the 13th century the Golborne plough-lands appear to have reverted to the lord of Newton, who granted them to Thurstan de Holland in socage; see the account of Golborne.
18
Cal. Chart. R. 1226?57, p. 458. There was a second grant for the demesne lands of Newton, Golborne, and Lowton in 1301; Chart. R. 29 Edw. I, m. 12.
19
Cal. Pat. 1340?3, p. 304.
20
Robert lord of Makerfield granted a part of his land to William Payvant, Plattclough being part of the boundary; Raines MSS. (Chet. Lib.), xxxviii, 113.
Robert Banastre, lord of Makerfield, granted to Henry son of William Curtis a number of pieces of land in the vill; the outlane to the wood of Burton is named; ibid. 117.
A grant by Robert Banastre to Matthew son of Gilbert de Haydock in 1289 gives the bounds thus: From the old ditch on the east, by Roger the Carpenters lands, so to a spertgore in the south, by the ditches westward to John de Orrells land, and then across to the commencement. Matthew was also to be toll free and hopper free in all the mills of Newton; ibid. 125. It was perhaps this grant which occasioned a lawsuit in 1347, Gilbert de Haydock as son and heir of Matthew complaining that he had been disseised of his common of pasture in 300 acres of wood; Sir Robert de Langton and others were defendants, including Hugh de Laye, hermit; Assize R. 1435, m. 9.
In 1334 Robert de Langton, lord of Makerfield, granted Gilbert de Haydock ten acres, including the Rushy Field on the west of the highway; the Gunk by the Longmarsh; and a piece next to Pimcocks Acre; Raines, loc. cit. 141.
The names and services of many tenants in Newton lordship in 1502 are given in Duchy of Lanc. Inq. p.m. iii, no. 101.
21
Richard Banastre gave to Paulinus son of Richard de Newton land lying between Rece-riding and Cockshaw Head; Raines, loc. cit. 113. Roger son of Paulinus is named in another deed; ibid.
In 1334 John de Langton authorized Richard de Newton, his receiver, to give seisin of two acres of the waste to Gilbert de Haydock; ibid. 143. The seal of Richard the Receiver is attached to several deeds; ibid. 139, 143.
Richard the Receiver of Newton in 1347 recovered a messuage, &c., from Jordan son of Adam de Kenyon; Assize R. 1435, m. 33 d. William and Cecily, children of Thomas the Receiver, were defendants in Lent 1352; Duchy of Lanc. Assize R. 1, m. 7 d.
22
It is not clear that the office was hereditary; there was perhaps more than one serjeant at a time. The officials in 1212 were William de Newton, who held two oxgangs of land by serjeanty, and had another oxgang; Robert the Reeve holding two oxgangs in virtue of his office, and Roger the clerk holding the same; Lancs. Inq. and Extents, i, 78. The reeve and clerk frequently appear in later times; e.g. ibid. 322.
In 1292 two sisters, Alice and Almarica, of whom the former had married Ralph the Serjeant of Newton, claimed an oxgang of land from Robert son of William son of Roger de Newton; they were the granddaughters and heirs of Wylot Dagel; Assize R. 408, m. 21 d.
About the same time Hugh, called the Serjeant, granted to Matthew de Haydock part of his land in Newton; Raines, loc. cit. 115. Hugh and Ralph are mentioned in the charter of Robert Banastre already quoted; ibid. 117.
The lands of James the Serjeant are mentioned in a deed of 1315; and James was witness to another deed in 1338; ibid. 133, 139. John the Serjeant attested grants in 1324, 1337, and 1340; ibid. 131, 141, 151. He and Hawise his wife occur in 1338; 141. Cecily, his daughter, appears to have married Robert de Warrington about 1349; ibid. 155.
In 1350 John the Serjeant and Alice his wife claimed lands from Richard son Thomas de Wallwork and others; Assize R. 1444, m. 4. In the following year he granted to feoffees all his lands in Newton, with the reversion of what his mother Hawise held in dower; Towneley MS. DD, no. 1279.
In 1479 John Serjeant of Newton granted to Peter Legh land in the Wood roffe meadow, lying by the Sankey; Raines, loc. cit. 173. The Woodrows or Woodroffes were known in the 13th century.
Henry Serjeant, outlawed for felony in 1528, held eight messuages, 200 acres of land, &c., in Newton of Thomas Langton; Duchy of Lanc. Inq. p.m. vi, no. 61.
William Serjeant next appears; he contributed to the subsidy in Marys reign; Mascy of Rixton D. At the end of 1556 he confirmed his father Johns lease to Peter Legh, junior, of his capital messuage called Crow-lane Hall, dated 1534; Raines, loc. cit. 173; Ducatus Lanc. (Rec. Com.), i, 302, 304. In the will of Gowther Legh of Winwick he directs Mine executors to take yearly the whole profits of Serjeants lands to the bringing up and finding to school of William Serjeant, now heir apparent to John Serjeant, and to the relieving of his brethren and sisters; Raines, Chantries (Chet. Soc.), 73. William Serjeant had also an interest in the Pembertons estates in Sutton and Bedford.
Peter Serjeant was in 1592 found to have held lands in Newton of the queen; also in Bedford; Thomas, his son and heir, was nine years of age; Duchy of Lanc. Inq. p.m. xv, no. 16.
In 1660 a free rent of ?1 13s. was due to the lord of Newton from the free rent of Peter Serjeant; abstract of title in possession of W. Farrer. Margaret, daughter of Henry Ashhurst of Dalton, married Peter Serjeant of Newton; Dugdale, Visit. (Chet. Soc.), 9. Administration was in 1673 granted to the estate of Thomas Serjeant of Newton.
Crow-lane House, perhaps the hall above mentioned, was in 1673 sold by William Blackburne, son of Thomas of Blackley Hurst, to John Stirrup of Newton; and about forty years later was purchased by Peter Legh of Lyme. There was a rent-charge of ?3 upon it for the benefit of the free school; abstract of title.
23
Adam son of Hugh de Booth claimed lands from John de Bingley and Katherine his wife in 1329; De Banco R. 279, m. 183 d.; 280, m. 127. Three years later Adam de Booth released his claim in favour of Katherine and her son Peter; part of the road leading from his house to Bradley Bridge was included; Raines MSS. xxxviii, 143. Katherine de Bingley and Richard her son and heir granted part of their land to Henry de Haydock in 1343; ibid. 145.
In 1364 John son of John de Bingley gave seisin of land near the Sankey to Sibyl his sister and Cecily de Haydock, her daughter; ibid. 147. Five years later Richard de Bingley, senior, granted the reversion of certain lands to John, the son of Henry de Haydock by Sibyl his wife, the sister of Richard; ibid. 148; also 159.
24
Some account is given of this family under Golborne. The seal of (John son of) Richard le Pierpoint in 1350 showed barry of six; ibid. 153.
25
Some acquisitions of the family have been recorded in previous notes.
The Orrells also had lands in Newton. Robert de Holland granted to John de Orrell and his heirs land which Robert Banastre had given to his father Thurstan de Holland; the bounds began at Eyolfs Brook by the Heuese in the north, went south to Trastans Clough, thence by a ditch to Haydock boundary, along this to Eyolfs Brook, and so back to the starting point; half a pound of cummin was to be rendered to the chief lord; Raines, loc. cit. 115. John son of Adam de Orrell of Hardshaw in 1318 granted to Henry de Orrell land in Newton which Richard the Baker had held; and two years later Henry son of John de Orrell made a grant to Richard; Add. MS. 32106, no. 1185, 1634.
Richard Bradshagh was in 1528 found to have held lands in Newton of Thomas Langton by a rent of 5s. 9d.; Charles Bradshagh was his heir; Duchy of Lanc. Inq. p.m. vi, no. 54.
The Southworths also had lands in Newton; ibid. vii, no. 23; Ducatus Lanc. (Rec. Com.), i, 201, 281.
26
The abstract of title already quoted shows that in 1660 the Leghs free rents, payable to the lord of Makerfield, amounted to ?6 13s. 4d. The other free rents, payable by Peter Serjeant and John Bretherton, amounted to no more than ?2 9s.
In 1687 Peter Legh purchased from John Derbyshire two closes called the Ring Wines, formerly the holding of Matthew Eden (1647) and William Baxter (1682). By an early deed Hugh Wait and Cecily his wife made a grant of lands, part of which lay in Ring Winit; Raines, loc. cit. 117.
In 1703 Peter Legh acquired lands from Richard Ball, which had in 1657 been purchased by Thomas Stirrup the younger from Robert Slynehead; the last-named had in 1624 leased to Edward Parr the tenement, with its buildings, lands, landoles, meadows, fields, leasowes, &c.
27
Richard Blackburne acquired a messuage, &c., from John Fairclough and Anne his wife in 1586; Pal. of Lanc. Feet of F. bdle. 48, m. 212.
28
Trans. Hist. Soc. xxix, 41; Rimmer, Old Halls of Lancs.
29
Baines, Lancs. (ed. 1836), iii, 647.
30
Richard del Hey and William del Hey attested charters about 1300; e.g. Raines, loc. cit. 125. John son of Richard del Hey was joined with his father in 1311; ibid. 127. The father soon afterwards disappears, and from 1315 or 1316 John appears alone; 129, 133.
William del Hey was in 1292 defendant respecting common of pasture in Newton, but the plaintiff was nonsuited; Assize R. 408, m. 32 d. A similar matter was contested by Richard and William del Hey in 1301, but the former did not proceed; Assize R. 419, m. 13 d.; R. 418, m. 2. William and Richard, sons of William del Hey, occur in 1324?5; Assize R. 426, m. 2, 9. John son of Richard del Hey was defendant at the same time; ibid. m. 2. William son of William del Hey was a plaintiff in 1342; Assize R. 1435, m. 47.
31
Henry de Bretherton occurs in the district in 1374; Coram Rege R. 454, m. 13; but the known history of the Hey family begins with a William Bretherton in 1523; Ducatus (Rec. Com.), i, 201. The same or a later William Bretherton, described as gentleman, who died in 1566, was found to have held five messuages, with gardens, lands, &c., in Newton of Sir Thomas Langton in socage, by fealty and suit of court and a rent of 16s.; John Bretherton, his son and heir, was twenty-three years of age; Duchy of Lanc. Inq. p.m. xi, no. 30. The estate is called the manor of Hey in a fine of 1573, John Bretherton being in possession; Pal. of Lanc. Feet of F. bdle. 35, m. 112.
The same estate is shown in the inquisition taken after the death (1590) of John Bretherton the son; his heir was his son William, twenty-five years of age; Duchy of Lanc. Inq. p.m. xvi, no. 27. This William is said to have died about 1640; Visit.
His son John succeeded. He was over seventy years of age in 1664, and married in 1620 Isabel daughter of Roger Nowell of Read and widow of John Byrom; Grappenhall Reg. Their son John was baptized at Winwick 30 Jan. 1622?3. At the beginning of the Civil War, John Bretherton, to free himself from the assaults and troubles put upon him by the Earl of Derby and his agents, left Lancashire and retired into Wales?then the kings quarters; for which his estate was sequestrated. He wished to go to London to protest against this, but was advised to compound, and this he did in 1646 at a rental of ?50. Afterwards the Commonwealth authorities were told that he had greatly undervalued his estate for the composition, and a new sequestration was ordered. He had taken the negative oath and the National covenant; Royalist Comp. Papers, i, 237?9. He made a settlement of the manor of Hey, and lands in Newton, Westhoughton, and Hindley, in 1654; Pal. of Lanc. Feet of F. bdle. 156, m. 142. He was buried 7 Sept. 1671, at Winwick, and his eldest son having died in the previous May, the heir was the grandson John, aged eleven in 1664. John the grandfather had a son Edward, who resided in Newton, and was buried in 1711; the baptisms of several children were recorded in the Winwick registers.
John Bretherton, the heir, died in 1679 and was buried at Winwick, the estate passing to his brother Thomas, aged seven in 1664. Thomas, who seems to have changed the spelling of the surname to Brotherton, was a barrister of Grays Inn; and in 1693 at Grays Inn Chapel he married Margaret Gunter of Aldbourne, Wilts.; Mge. Alleg. Abp. Cant. (Harl. Soc.), 259. In a fine concerning Hey in Aug. 1693, Thomas Brotherton, esq. was deforciant, and Thomas Gunter, esq. was plaintiff; Pal. of Lanc. Feet of F. bdle. 231, m. 62. Thomas Brotherton was one of the Tory members for Newton, from 1695 till 1701. He died in London 11 Jan. 1701?2, and was buried at Winwick; Pink and Beaven, Parl. Repre. of Lancs. 285; Winwick Reg. There is a monument to him in the church.
His successor was Thomas Brotherton, no doubt his son, who died in London, aged sixty, and was buried at Winwick 1 Sept. 1757. He was vouchee in a recovery of the manor of Hey in 1722; Pal. of Lanc. Plea R. 514, m. 4. He seems to have had a son Thomas, described as of the island of Antigua, whose son William Browne Brotherton entered Christ Church, Oxford, in 1772, at the age of seventeen; Foster, Alumni. W. B. Brotherton succeeded to the manor of Hey, but was dead in 1828, when the Charity inquiry was held. Thomas William Brotherton, perhaps the father, was in possession in 1803; and W. B. Brotherton and his wife and Thomas William Browne Brotherton were vouchees in 1812; Pal. of Lanc. Lent Assizes 1803, R. 19; Lent Assizes 1812, R. 11. The estate was sold about 1820 to the Leghs.
One of the Brothertons gave ?50 to the poor.
32
a Dugdale, Visit. (Chet. Soc.), 56.
33
Mascy of Rixton D.
The Chorley family also held some property about this time. They had it before 1371; Final Conc. ii, 182. Two charters of 1389 and 1412 may be seen in Harl. MS. 2112, fol. 44, 50. The estate was described as a messuage and an acre of land, held of the lord of Newton by the rent of a peppercorn; Duchy of Lanc. Inq. p.m. vi, no. 17; xiv, no. 58.
Ralph Eccleston of Eccleston, who died in 1522, held the manors of Lowton and Newton of Thomas Langton in socage by the rent of 35s.; Duchy of Lanc. Inq. p.m. v, no. 46. The Eccleston lands were sold to Sir Peter Legh and others about forty years later; Pal. of Lanc. Feet of F. bdle. 27, m. 118, 133.
34
Misc. (Rec. Soc. Lancs. and Ches.), i, 240?3. Roger Wood, yeoman, died 10 Aug. 1608, holding house and land of the king as Duke of Lancaster, by knights service; Richard Wood, gentleman, his son and heir, was forty years of age; Lancs. Inq. p.m. (Rec. Soc. Lancs. and Ches.), i, 131.
35
Norris D. (B.M.).
James Eden died 26 Oct. 1625(?), leaving a son and heir Gilbert, aged seventeen years; his land was held of the king as of the manor of East Greenwich; Duchy of Lanc. Inq. p.m. xxx, no. 80.
Ralph Morris purchased land in Newton of Geoffrey Osbaldeston in 1594; Pal. of Lanc. Feet of F. bdle. 56, m. 151. He died 10 Mar. 1607?8, holding his lands of Richard Fleetwood in socage by 5s. 8d. rent; William Morris, his son and heir, was aged thirty-seven and more; Lancs. Inq. p.m. (Rec. Soc. Lancs. and Ches.), i, 119.
James Maddock had a messuage in Newton in 1588; Pal. of Lanc. Feet of F. bdle. 50, m. 42. John Maddock, who died in 1617, held two messuages, &c., of Sir Richard Fleetwood; James the son and heir was forty-seven years of age; Duchy of Lanc. Inq. p.m. xxx, no. 75.
36
Besides John Bretherton, Charles Baxter and James Collier had their property sequestrated for participation in the former war, the latter pleading his sub-servience to the Earl of Derby; Royalist Comp. Papers, i, 55; ii, 72. Henry Gerard, an infant of three years, was penalized for the recusancy of his mother; it was explained that he was being brought up in the Protestant religion; ibid. iii, 19, 20. For his further history see the account of Bamfurlong in Abram.
37
John son of William de Abram granted to William son of Richard de Blackburne a burgage and an acre of land appertaining to the said burgage, rendering 2d. to the lord of Newton; Raines, loc. cit. 115. Matthew de Haydock granted to Amery daughter of Thurstan de Walton and to Margaret his wife two burgages, with the acres, tofts, and messuages belonging to them, which he had had from Robert the reeve at a rent of 3s., to the grantor; ibid. 117. Felicia de Newton, daughter of Robert de Kenyon, granted Matthew de Haydock a burgage with 1 acre belonging to it; ibid. 119. There are numerous other grants to the same effect, but the services due to the chief lord are not described.
The borough has no arms, but uses a seal bearing the crest of Leigh.
38
Pink and Beaven, Parl. Repre. of Lancs. 273, 274. The lord of the manor or one of his family was usually a member. All were Tories.
William Shippen, one of the members from 1715 till his death in 1743, was the recognized leader of the Jacobite party in the House, and was esteemed a great patriot. He was sent to the Tower in 1717. It appears, however, that Walpole found means to utilize him; Pink and Beaven, op. cit. 287; Gregson, Fragments (ed. Harland), 286; Baines, Lancs. Dir. 1825, ii, 433.
39
Chart. R. 94, 29 Edw. I, m. 12, 45 n.
40
Reg. St. Oswald of Nostell (B.M.). Thomas Gentle was chaplain in 1312; Raines, loc. cit. 127.
41
Raines, Lancs. Chant. (Chet. Soc.), i, 75 n. Licence for an oratory at Newton had been granted to Ralph de Langton in 1374; Lich. Epis. Reg. Stretton, v, fol. 30.
42
Valor Eccl. (Rec. Com.), v, 220.
43
Lancs. Chant. i, 74; the foundation is erroneously ascribed to Sir Thomas Langton, knight. The clear income was 68s. 3d. derived chiefly from Walton-leDale and Preston. A chalice and two sets of vestments belonged to it.
44
Visit. Lists at Chester.
45
Articles were exhibited in 1581 against Robert Bradshaw, clerk, curate of Newton, to the effect that he had become infamous among his parishioners and a slander to the ministry, being a common drunkard and a common gamner or player at tables and other unlawful games; further he had solemnized divers unlawful marriages, in one of which a sister of the squire of Risley was a party; Ches. Consistory Ct. P.
46
Lydiate Hall, 248; quoting S.P. Dom. Eliz. ccxxxv, 4.
47
Trans. Hist. Soc. (new ser.), x, 190.
48
Hist. MSS. Com. Rep. xiv, App. iv, 13.
49
Richard Pickering was reader in 1609; Raines MSS. (Chet. Lib.), xxii, 298.
50
Commonwealth Ch. Surv. (Rec. Soc. Lancs. and Ches.), 47.
51
Notitia Cestr. (Chet. Soc.), ii, 271. A pension out of the duchy had been settled by Edward VI, viz. ?3 1s. 7d., the old chantry rent, less the tenth retained by the Crown; ?25 came from an inclosure of common, and ?20 was allowed by the rector of Winwick.
52
Notitia Cestr. ii, 273 n.
53
Lond. Gaz. 11 Feb. 1845.
54
Visit. List at Chester. Bishop Gastrell says that a curate or perpetual preacher was licensed in 1620; Notitia Cestr. ii, 272.
55
In 1635 the ship-money collectors conceived his stipend to be insufficient to maintain him and his wife and children, and therefore forbore to lay any tax upon him; Misc. (Rec. Soc. Lancs. and Ches.), i, 110.
56
Plundered Mins. Accts. (Rec. Soc. Lancs. and Ches.), i, 6. He signed the Harmonious Consent. His will was proved in 1649.
57
He came into the place by the general consent of the chapelry, and was a godly preaching minister, supplying the cure diligently upon the Lords day, but he had not observed the recent day of humiliation appointed by Parliament; Commonwealth Ch. Surv. 48. Roger Low heard him preach at Newton in 1664; he heard Mr. Taylor there in the following year. It is possible that these were Nonconformists; Local Glean. Lancs. and Ches. i, 178, 180.
58
Mentioned in the Winwick registers in 1684 and 1685. Also rector of Claughton for a time. He was master of Stockport School 1674 to 1683; afterwards he had a school at West Bradenham, Norfolk; Earwaker, East Ches. i, 417.
59
Stratfords Visitation List at Chester. He was buried at Winwick in 1731; will proved 1733. He was also rector of Grappenhall as a warming-pan from 1708 to 1722; Lancs. and Ches. Antiq. Notes, ii, 60.
60
The church papers at Chester begin at this time, when the sentence of consecration was given.
61
Also rector of Davenham, 1745?75.
62
The following was his story: Parson Brien [Bryon], an apostate Jesuit, was [Dec. 1806] curate of Newton. Went at college by the name of Francis Plowden out of gratitude to Lady Goring, whose coachman his father was, and who sent him to college. Came over to mission in Lancashire in 1751; Ghented, 1755; taught little figures for some time and at petition of Squire Dicconson allowed to come over to be his chaplain 1758. Company of Colonel Legh, &c., completed his ruin. He read his recantation 1761 and obtained curacy of Newton; Misc. (Cath. Rec. Soc.), iv, 258; Foley, Rec. S.J. vii, 100. He was buried at Winwick in 1813 aged eighty-eight.
63
He was one of the illegitimate sons of Thomas Peter Legh of Lyme; Ormerod, Ches. (ed. Helsby), iii, 678.
64
Lond. Gaz. 17 May 1879.
65
Notitia Cestr. ii, 273; End. Char. Rep.
66
Nightingale, Lancs. Nonconf. iv, 144. Richard Evans of Haydock died in 1864; his sons Josiah and Joseph in 1873 and 1889. One of the daughters married Richard Pilkington of Windle; the other, Ruth, built the memorial churches at Rainhill and Haydock.
67
The ancient religion appears to have died out very quickly in this township. Thomas Langton, Baron of Newton, was in 1590 in general note of evil affection in religion, though in some degree of conformity; his wife was a recusant and indicted thereof. Peter Legh of Lyme, who had just succeeded his grandfather, had married a daughter of Sir Gilbert Gerard, Master of the Rolls, a decided Protestant, and was of great good hope; Lydiate Hall, 243, 244, 247; for the Langton family see further, pp. 258, 260. The recusant roll of 1641 gives only one name in Newton; Trans. Hist. Soc. (new ser.), xiv, 244.
Roger Ashton of Newton in 1653 petitioned to be allowed to contract for his estate, two-thirds having been sequestered for recusancy; Royalist Comp. Papers, i, 112.
The above text and images are from the British History Online website, and is used in accordance with their terms and conditions for non-commercial and private use, their terms and conditions are available here, University of London & History of Parliament Trust hold Copyright 2003-2006 on the layout and images for the above text