| | |
| --- | --- |
| Canon Whitley, Rector of Newton-in-Makerfield, recognised that the population of Earlestown was growing and there was a need for their own Parish Church. On May 27,1874, Canon Whitley, called a meeting at which it was decided to build a new church in the Earlestown area. | |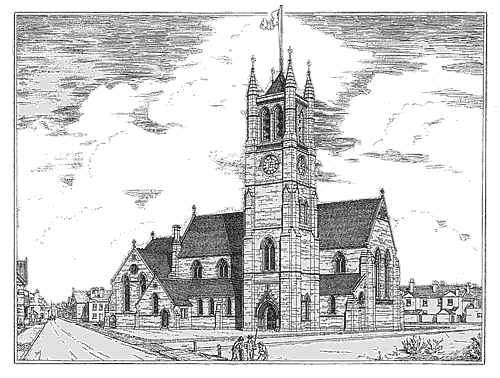 The Original Design by Whitley & Fry of Dover
The original plans for the Church were drawn up by Messrs. Whitley & Fry of Dover and they produced a design for a building in Early English style to seat 900 persons and costing an esitmated ?16,000.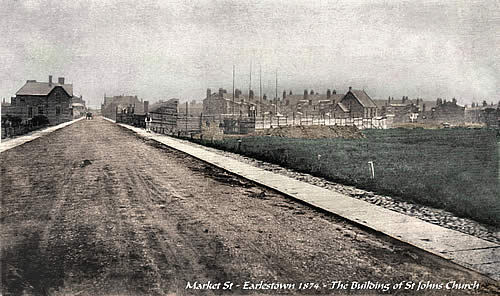 The Building Site, View down Market St, approx 1874
On Wednesday , August 4, 1875, the foundation stone was laid by Mrs. W J. Legh, wife of the Lord of the Manor, who had donated the land in Market Street.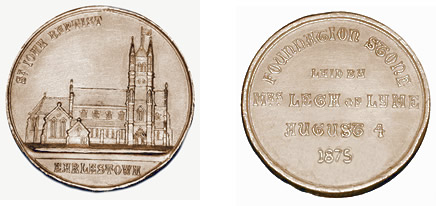 Commemorative Coins for the Laying of the Foundation Stone
However, the original design of the church and plans had to be curtailed due to lack of money and a building to seat 600 was built, leaving the remaining portion for a future effort.
Before the consecration of St. John the Baptists Church, Earlestown, in 1879, the Parish of St. Peter, Newton?in-Makerfield, extended from Hermitage Green Lane in the south, from the Bulls Head Inn down to the Golborne Dale bridge in the east, up High-street and down Rob-lane to the brook in the north, up Ashton-road to the Haydock county bridge, up Crow-lane to the Common in the west, and down
Cross-lane through Fairclough-street to the Wargrave-road bridge. After the building of St. Johns the line of demarca?tion of St. Peters Parish was at the Haydock Line Crossing ; later St Peters was further reduced in extent west and south of Water-street, when the Parish of All Saints attained its full quota of population and became a separate and distinct parish.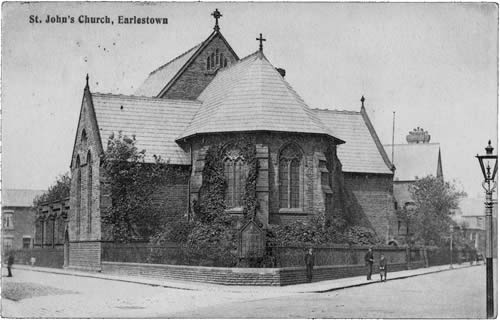 St Johns, Earlestown 1920s
The new Church of St John the Baptist was consecrated by Rt. Rev. Kelly, Assistant Bishop of Chester, on January 6, 1879.
In 1878, the Rev. Thomas Matthews came to Earlestown as Curate-in-Charge and on the opening of the new church he became the first Vicar of Earlestown, a position he held till 1914.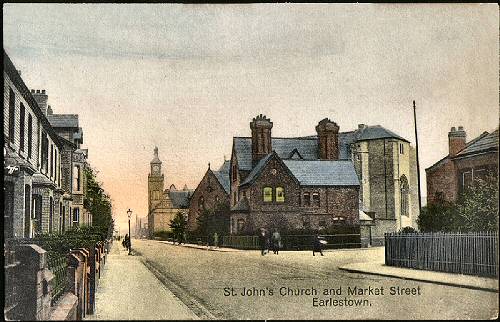 St Johns, Earlestown 1920s
The second effort of completion of the Church came about in the 1920s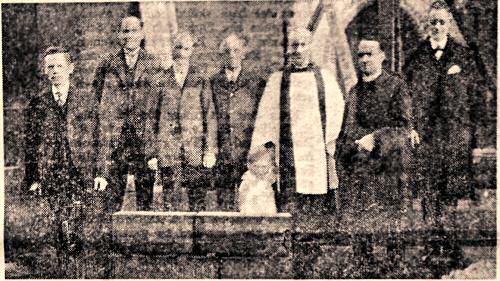 This photo shows the Stone Laying Ceremony at St Johns Church, Earlestown on December 20th 1924
Left to Right :
J.E.Clough(Secretary), H.Thorn(Vicars Warden), J. Boardman(Peoples Warden and Treasurer), Dr G.J.Mouncey(lay reader), the Rev. R.Marsden(Vicar) with his son Jack, the Rev. T.Lever(curate in charge of St. Philips Church) and Mr T.A.Pimblett
Unfortunatly it was decided the architects dreams had to compromise, due to finances and the partly completed tower as we see it today was built onto the end of the church.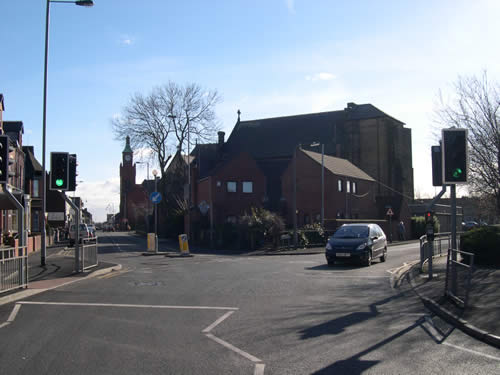 St Johns, Earlestown 2004
The church as it is today
---
Text and Photos from various sources by Steven Dowd