In the website forums the last few days there have been a few requests for information about Emmetts Brow, where it is and who was its named after, I thought that this extract from an LNWR Book I have would help answer a few questions.


Mr. J. Watson Emmett
EARLESTOWN came to be the primary wagon manufacturing and repair works for the LNWR. The origin of the Works can be traced back to before the formation of the company. The Grand Junction Railway (GJR) was opened in 1837 from Birmingham to Newton Junction and connected with the Liverpool and Manchester Railway (L&MR). The GJR rented premises from the L&MR which they used as a locomotive repair shop. This was situated at Edge Hill, Liverpool , which surprisingly was 15 miles from the nearest GJR line at Newton Junction.
When the GJR took over the Chester and Crewe Railway (C&CR) in 1840 they found that they had acquired powers to purchase land around the junction of the C&C at Crewe . Joseph Locke, the engineer-in-chief, quickly realised that a new and larger works would be needed to build and service locomotives for the planned expansion. On 12th August 1840 the GJR board approved the building of Crewe Works for the construction and repairs of GJR locomotives, wagons and carriages. It opened in 1843.
With the formation of the LNWR in July 1846 the demand for more locomotives stretched the resources of Crewe Works, and in February 1847 it was decided to transfer the wagon construction to Edge Hill, Liverpool , and to transfer the small locomotive repair shop back to Crewe Works.
With the transfer to Edge Hill, Owen Owens, who was the wagon foreman at Crewe Works, was put in charge. The small wagon works at Ordsall Lane , Manchester was also placed under his control.
The demands for locomotive work at Crewe were still increasing and not all the repairs could be transferred from Edge Hill. Very soon the locomotive work undertaken at Edge Hill increased again and this restricted the space available for wagon building, so as soon as 1852 the LNWR again began a search for a new works to centralise wagon building.
Success came on 1st March 1853 when the LNWR took a lease on the Viaduct Foundry from Messrs Jones and Potts. This was a small works of eight acres situated at the eastern end of the famous viaduct over the Sankey Brook and St. Helens canal, built by George Stephenson for the Liverpool & Manchester Railway, and just west of Newton-le-Willows.
The LNWR were offered a lease at £650 per annum for two years or £600 per annum for seven years. The latter option was taken up, and after seven years the property was purchased outright for £15,000. The works, when first let, was said to include `one 24 horse engine, an 18 horse engine, 40 smiths fires, one large hooping furnace, one foundry, three cupolas, one brass foundry, gas apparatus, one office and drawing room, warehouse, dining room for 200 men and stables for eight horses. It had capacity for building 1,000 wagons and 50 engines per year. Included in the lease were thirty-three workers cottages in Owen Street and Norris Street .
The Viaduct Foundry had been a small engineering works begun by Messrs Jones Turner & Evans in 1833. It is known to have built at least one locomotive, Black Diamond, for the nearby Haydock Collieries of which Richard, Evans and Turner were owners. Among other things produced were pumping machines for local mines. It had a rail connection at the eastern end of the viaduct, and claims are made that Rocket was serviced at the works. There is no proof of this but excavations under the floor of the `Square Smithy on the spot where the watering is said to have taken place, revealed a line of stone blocks with cast-iron rail chairs with chair bolts set in lead, matching the early L&MR permanent way.
From 1853 rapid development began and the area covered by the works increased from the eight acres purchased to 36 acres in the 1900s. The first order received was for 300 wagons and, to accommodate the work, a new wagon shed was authorised in early 1854 on land recently purchased adjacent to the `Long Smithy.
By the year 1864 wagon production was in full swing and Mr Owens reported that the production for the first half of that year was:
Capital Account
Open Goods
640
Break Vans
6
Parcels Vans (4 wheeled)
2
Lorries (4 wheeled)
2
Cart (2 wheeled)
1
Float (2 wheeled)
1
vehicles
652
Renewal Account

Open wagons

136

Covered wagons

11

Cattle wagons

16

Coal wagons

4

Break Vans

3

Ballast wagons

9

Lorry

1

vehicles

180
And for the second half of the year:
Capital Account

Open Goods

508

Glass wagons

2

Break Vans

15

Lorries

3

Parcel Cart

1

vehicles

529
Renewal Account

Open Goods

142

Covered goods

17

Cattle Vans

19

Break Vans

2

Coal wagons

8

Ballast wagons

14

vehicles

202
This totalled 1,552 rail vehicles and 11 road vehicles.
The full extent of the activities at Earlestown and district is clearly indicated in the first half-yearly report for 1865, which was as follows:
| | |
| --- | --- |
| New wagon output | 1,099 |
| Vehicle frames renewed | 48 |
| Heavy repairs | 774 |
| Ordinary repairs | 33,260 |
| (Out-stations included) | |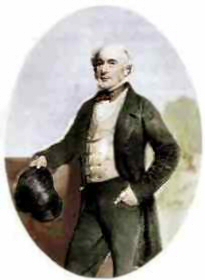 Sir Hardman Earle,
director of the LNWR and former GJR.
The country lane giving access to the works was called Pepper Alley Lane but this was later renamed Earle Street as a compliment to Sir Hardman Earle, a director of the LNWR and former GJR. With the transfer of the men from Ordsall Lane Works, more housing was needed, and when built these became known as Earles Town, which later became corrupted to Earlestown, the name it bears today.
The streets within Earlestown were named Rathbone, Booth, Lawrence and Chandos after LNWR directors and officials. Haydock Place , Newton and Sankey Terraces were built to continue the expansion of housing accommodation and at a later date Regent Street is thought to have been added. In 1854 a house was built on Earle Street at the western end of the works and was named Earle Cottage. This became the residence of Mr Owen Owens and subsequent Works Superintendents.
the Works Superintendents from 1853?1964 were:
| | |
| --- | --- |
| Mr Owen Owens | 1853?1867 |
| Mr J.W. Emmett | 1867?1903 |
| Mr H.D. Earl | 1903?1910 |
| Mr A.R. Trevithick | 1910?1916 |
| Mr W.W.H. Warneford | 1916?1924 |
| Mr E. Lemon | 1924?1931 |
| Mr Anthony | 1931?1946 |
| Mr A.E. Bates | 1946?1964 (?) |
In 1867 Mr Owen Owens retired As Superintendant and J.W. Emmett was appointed his successor.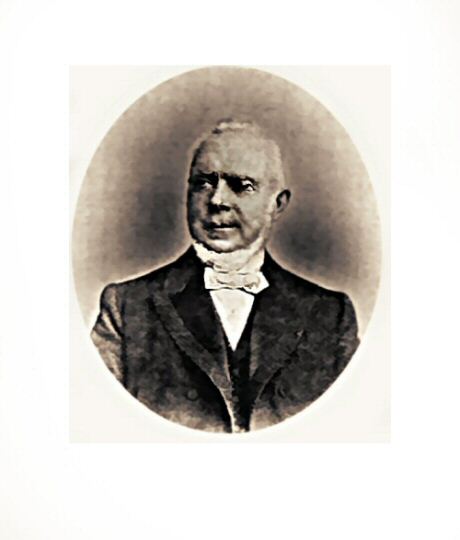 Mr. J. Watson Emmett,,
Superintendent of the Works 1867-1903.
J. Watson Emmett had served his apprenticeship under first his father and then his uncle who were Wagon Superintendents of the Lancashire and Yorkshire Railway, working on the bench for a further five years before being promoted to foreman and then daughterman. With the death of his uncle in 1865, he succeeded him as Wagon Superintendent of the L&Y. He was appointed to move to the LNWR and take charge of Earlestown in 1867. He was immediately faced with a wholesale reduction in the building programme, resulting in 124 of the staff being discharged. Fortunately, this was a short phase and Emmett quickly began to develop the Works. In December 1867 the roof of the original smithy was found to be unsafe and it was decided to pull it down, giving more yard space. At the same time an additional bay was added to the Foundry to become the new smithy.
The development of the works is shown by the following extracts from the Northern Section of the Locomotive and Engineering Committee Minutes:
| | | |
| --- | --- | --- |
| Feb 1868 | LNWR chairman visited the works and agreed Mr Emmetts proposals to build a new shed for the tyre press. | £460 |
| | the existing Iron and Brass Foundries to be enlarged by taking in one bay of the old smithy. | £300 |
| | New wagon and machine shop, the existing outside wall of the wagon shop to be replaced by pillars and girders at | £500 |
| Oct 1868 | New Spring Shop and furnace ordered | |
| Feb 1869 | Shop heating by hot water and steam ordered in Fitting, Carpentering and Wood Machine Shops. Other shops heated by stoves | |
| Jan 1870 | Wheel-making plant authorised | |
| Apr 1870 | Plans for new stores authorised | |
| Sept 1870 | New Paint Shop approved owing to wagon production encroaching on existing Paint Shop | |
| Jul 1870 | Timber Shed approved | £7,800 |
| Jun 1872 | Plan for new Wagon Shop approved | £8,500 |
| Nov 1872 | Authority given to re-site stables to make way for new offices | |
| Feb 1873 | Additional bay to forge and appropriate equipment authorised | £2,135 |
With the increase of workers at the works, a further fifty houses were authorised to be built in 1873. With the enlarged community, the need for a meeting place for recreation and education was recognised by the company, and they built the Viaduct Institute in 1877. Workers paid 1 d. per week to be members for those earning over 10 /- per week, and a halfpenny for those earning less.
The Viaduct Institute was sited on land to the north side of Earle Street across the road from the Works. It was a two-storey building which had a dining room for 400 on the ground floor, and on the first floor there was a library of 5,000 books, a reading room and class rooms. On five nights a week classes were run in subjects such as book-keeping, shorthand, arithmetic and geometry. There were also classes for female members of the workers families, in millinery, dressmaking, cooking and other activities. Scholarships were offered annually by Lancashire County Council and there was a company scheme founded by Sir Richard Moon, who was Chairman of the LNWR for many years.
The importance of Earlestown as the principal wagon works of the LNWR was recognised in 1895 when the Works was visited by the International Railway Congress on 28th June.
A remarkable achievement and highlight of Mr Emmetts long tenure as superintendent was the building of a low-sided Diagram 2 open wagon with single-sided wood hand-brake in 41 mins, on 8th March 1878.
By the 1900s the works employed approximately 2,000 men plus 750 at various outlying repair shops and examining stations. It was reported to be able to produce 4,000 new wagons, perform 13,000 heavy repairs and produce 300 new horse-drawn vehicles per year.
The works was able to turn out eighteen finished wagons during a 9-hour day, a rate of one every half hour.
There were about 500 various machines employed in the works including 43 boring and drilling machines, 17 for making nuts and bolts, 63 lathes, 22 steam hammers, 52 wood-working machines and many others. The power for the machines was supplied by steam, hydraulic power and in later years by electricity. The electric power unit consisted of two Willans Triple Expansion high-speed engines of 175 and 75 1HP which drove two Crewe dynamos. The plant was self-sufficient and manufactured everything it required.
Once built, a wagon would only return to Earlestown for major repairs. Minor repairs could be handled by the repair shops around the system. Nevertheless, the volume of work was such that Earlestown often received several trains of crippled wagons per week to be repaired.
Besides minor repair work, a most important duty per-formed by the `outside staff of 300 men was the examination and greasing of wagons in transit. These men were deployed singly or in groups at every important station or junction throughout the system. They had to satisfy themselves that every wagon starting from or stopping at their station was in proper running order. They tested the wheels and axles and examined the springs, buffers, drawgear, brakes and all working parts of the wagon. If a wagon was found to be defective, it was shunted out of the train and a label attached indicating that it was not to travel until the defect was remedied. They also checked that the axleboxes were well supplied with grease. The LNWR used nearly a thousand tons of grease per year.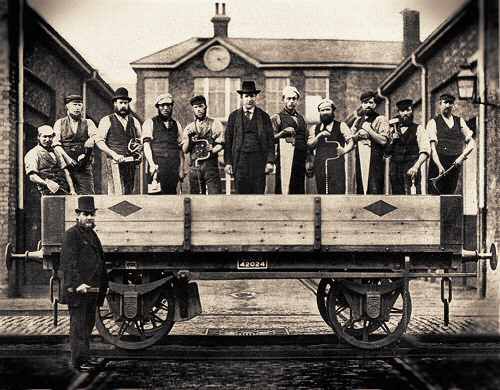 On 8th March 1878 these men of Earlestown Works set out to create a record. Here they are shown rightly proud to have built this Diagram 2 low-sided open wagon in just 1 hour 41 minutes. The men have recently been identified by Ian Fisher of Newton-le-Willows as: standing by the wagon, F. Harwood (Chief Foreman); in the wagon, G. Mottram, G. Profit, Crampton, L. Sydes, J. Hatton, J. Massey (Foreman), Wills, M. Watkins, Jones, D. Owen, C. James. LNWR SOCIETY (9576)
Emmetts Brow
Emmetts Brow is the Hill down into the Sankey Valley at the St Helens end of Earle Street, Earlestown
I believe that Emmetts Brow gained its name because the House which he lived was at the top of the hill on the Viaduct side. The house is no longer standing, but the wall which retained its gardens still remains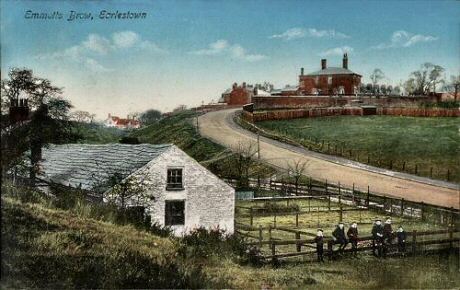 Emmetts Brow, Earlestown, House of Mr. J. Watson Emmett at top right side
The Cottage in the foreground, Is the place known as Stephensons Cottage, which Stephenson used for accomodation while the building of the Sankey Vally Railway Viaduct was completed
---
Use of this text is courtesy of the LNWR Society:
This text is mostly from a LNWR Society book, "LNWR Wagons, Volume 1" published by Wild Swan
This Volume 1 book, has a chapter all about the Earlestown Wagon Works. Some material in the above text is originally sourced from a previous leaflet which went into details about the Viaduct Works, and was written by John Shelley and edited by Chris Northedge, Editor, "LNWR Wagons" by the LNWR Society in Essex.
Photos are from other sources.
---