History of the Vulcan Foundry , Newton le Willows

1781

George Stephenson was born at Wylam-on-Tyne, Northumberland.

1785

Charles Tayleur was born.

1803

Robert Stephenson was born at Willington Quay, Northumberland.

1816

Daniel Gooch was born in Bedlington, Northumberland, on 24th August, 1816

1823

George Stephenson founded a locomotive works at Newcastle-on-Tyne.

1829

The Rocket was built by Robert Stephenson & Co. won the prize of ?500 at the Rainhill Trials that were held to determine the most suitable type of locomotive for the new Liverpool and Manchester Railway.

1830

The Vulcan Foundry was established at Newton-le-Willows by Charles Tayleur, a Liverpool merchant and engineer, for the production of locomotives.

The Liverpool and Manchester Railway opened.




1931

The Warrington and Newton Railway was opened.

1832

Robert Stephenson joined Charles Tayleur in partnership at the Vulcan Foundry.

1833

Mr Hargreaves of Bolton, Lancashire, took delivery of the first two locomotives to be built at the works. They were the Tayleur and Stephenson (four wheeled engines of the Planet type).

Two bogie engines, named Fire Fly and Red Rover, each with single driving wheels were exported to America for the Camden and Woodbury Railroad.

1834

Daniel Gooch (later to become Sir Daniel, and an outstanding locomotive designer with Great Western Railway) entered Vulcan Foundry as an engineering apprentice.

1835

In February 1835, on the threshold of the Industrial Revolution, Joseph Ruston was born at Chatteris in Cambridgeshire. He grew up on his father?s farm where he developed an interest in its machinery and future potential for improvement.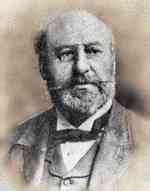 1837
One of the first locomotives to run in Russia, a 2-2-2 type, was supplied for the St Petersburg Pavlosk Line.
Two 0-4-2 goods engines were delivered to Kaiser Ferdinand Nordbahn of Austria. LElephant was supplied for the Belgian Railways.
Four single drivers were delivered to Germany for the Berlin and Potsdam Railway.
London and Greenwich Railway received its first locomotive from Vulcan Works.
Three seven-foot gauge locomotives named Vulcan, Aelas and Bachus were delivered to the Great Western Railway.
1846
The earliest side tank engines for any railway were built and delivered to Ireland for the Waterford and Kilkenny Railway.
1847
Vulcan Foundry took over its subsidiary firm the Bank Quay Foundry of Warrington.
1851
Hornsbys portable steam engine took first prize at the Great Exhibition held at Crystal Palace.
1852
The first iron sea going vessel Tayleur, a tea clipper, was built at the Bank Quay Foundry.
Regrettably, the ship was wrecked in heavy storms in the Irish Sea on her maiden voyage to Australia and of the 652 people on board, 380 lost their lives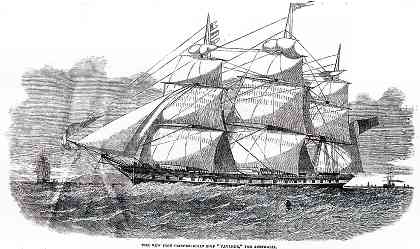 Vulcan Foundry exported eight 2-4-0 passenger locomotives to India for the Great Indian Peninsular railway. These engines operated the first public railway in India from Bombay to Thana. Between 1852 and 1952 Vulcan supplied nearly 2750 locomotives for service in India, an average of more than one a fortnight for 100 years.1857Joseph Ruston went into partnership with Burton & Proctor, a Lincoln firm of millwrights and smiths, to form a new company entitled Ruston, Burton & Proctor.1860Despite the tragic wrecking of the Iron Clipper Tayleur the Bank Quay foundry continued to build more tea clippers. In addition to its shipbuilding work the foundry also fabricated much of the ironwork that was used in the construction of the Conway Bridge and the Britannia Tubular Bridge over the Menai Straights, between Anglesea and North Wales. The Bank Quay Foundry was not to prove a successful investment, however, and closed in about 1860.1862Single driver express passenger locomotives were supplied to the South Eastern Railway. The 87.5 mile run took only one hour fifty five minutes.1864A limited liability company was formed with Mr W F Gooch as General Manager.1866Ten broad gauge saddle tank engines were built for the Bristol and Exeter Railway. Their tank capacity was 530 gallons plus an additional 740 gallon tank located below the footplate.1871Vulcan Foundry supplied Japan with their first locomotive, a side tank type with 4ft 3in coupled wheels.1872/3Farlie Patent double locomotives were built and supplied to New Zealand, North America, Mexico, Portugal, Peru and Queensland.1884Vulcan produced its one-thousandth locomotive in 1884; this was a 2-6-0 tender engine of 3?-6″ (1.1m) gauge produced for the New Zealand Government1887Ruston Steam Navies helped to build the Manchester Ship Canal.1888The first ten wheeled tank engines with inside cylinders were built at the Vulcan for the Taff Valley Railway.1890Five passenger tank engines were supplied to Rhymney Railway. These were the only engines in the country with saddle tanks combining the features of the 2-4-2 wheel arrangement with double frames to all wheels except the trailing pair. By the end of 1890 the work force had grown to 555 men.1894Ruston, Burton & Proctor produced their first commercial oil engine.1894/6Twenty-four 2-6-0 tender engines were supplied to the Indian Midland Railway. Extended taper form smoke boxes gave them a novel appearance.
1904The Vulcan design for a 4 cylinder Atlantic type balanced compound engine was accepted by the Great Northern Railway. Features included the Vulcan patent starting valve and reversing gear.
1914The three thousandth locomotive was completed – a broad gauge 2-6-2 type for Great Indian Peninsular Railway.
1914/8Vulcan war production included shells, gun mountings and Paravanes (mine sweeping devices).  Ruston Burton & Proctor built almost 3000 single seat light aircraft at Lincoln.  Between 1916-18 Rustons built about 500 Caterpillar tractors for hauling guns.
1918Ruston acquired the firm of Richard Hornsby & Sons.
1922/3Twenty 4-8-0 type locomotives were built for the metre gauge Uganda Railway in the Kenya Colony. Fifteen were designed for oil burning the remainder for coal.
1929The first non-steam locomotive was built at Vulcan – an electric locomotive for India.
1930Front page news when Vulcan, pioneers in transporting locomotives by road, despatched their first engine from the works by road in January.
1932Design work commenced on the first diesel locomotive to be built at Vulcan Foundry.
1933Vulcan Foundry entered into an agreement with A/S Frichs of Aarhus, Denmark for the building of diesel locomotives.  The English Electric Company Limited supplied the first 6K engines to be used in rail traction. These were for diesel electric shunt locomotives.
1934/5One hundred class 5 engines were delivered to London Midland and Scottish – an indication of the tendency to develop a first class mixed traffic loco capable of hauling any train.
1935 The largest locomotive (in overall dimensions) built to date at Vulcan. Twenty-four 4-8-4 locomotives were built for the Chinese National Railways. The overall length of engine and tender was 93ft 2.1/2ins.  

 Two hundred and fifty light tanks were built to War Office specifications (subsequently to see service in the Second World War in Flanders and North Africa).
1936Vulcan were invited to design and develop an entirely new tank.
1937The locomotive business of Hawthorn Leslie merged with Robert Stephenson and Company, under the name of Robert Stephenson and Hawthorns Limited.
1938Pilot models of the Waltzing Matilda tank were ready for trials.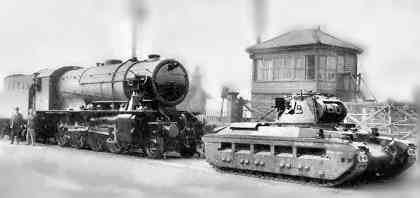 1940Matildas in action on the Western Front (and later in North Africa, Russia and the Pacific). The Companys agreement with A/S Frichs ended (due to the hostilities). A new agreement signed with the Dury Car Company Limited, for the manufacture of diesel mechanical locomotives. Ruston & Hornsby Limited took over Davey Paxman & Co (Colchester) Limited.
1941King George VI and Queen Elizabeth visited Vulcan Foundry.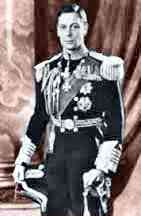 1943/5Over five hundred 2-8-0 Austerity type steam locomotives were built for use by the War Department.
1944Vulcan Foundry acquired Robert Stephenson and Hawthorns Limited. In 1944 the workforce reached its peak of 4,128 employees.
1945
Total contributions by Vulcan to the war effort in terms of military equipment:-
250 Mk V and Mk I light tanks,
600 Matilda tanks,
1700 machine gun mounts,
10,000 major torpedo parts,
40,000 smaller torpedo details.

1946Vulcan commenced building mechanical parts for electric and diesel electric locomotives working in conjunction the English Electric Company Limited.  One hundred and twenty 2-8-0 Liberation locomotives were built for the war-ravaged countries, Belgium, Czechoslovakia, Yugoslavia, Poland and Luxembourg.
1949Diesel electric and electric locomotives produced in co-operation with the English Electric Company Limited in addition to the steam locomotives being built at the time.  The first main line diesel electric locomotive to operate in Egypt was built at Vulcan Foundry and was fitted with an English Electric 16SVT engine.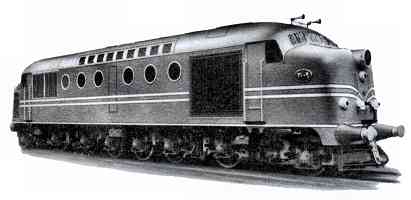 1954The last order for steam locomotives receive, three 2-6-2 wood burning locomotives for the North Borneo Railways.
1955Vulcan Foundry together with its associate company, Robert Stephenson & Hawthorn Limited of Newcastle-upon-Tyne, became full members of the English Electric Group of Companies.  English Electric diesel engines were built at Vulcan Foundry for the first time.
1956The 6,204th steam locomotive was built at Vulcan Foundry, a 4-8-4 (class 31) locomotive for East African Railways – the last big main line steam order for Vulcan, forty six were built.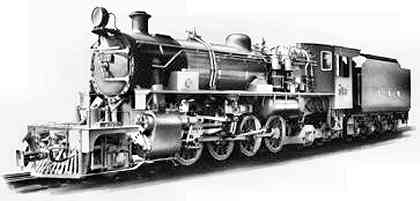 1957An order for 22 Deltic locomotives was placed by British Rail each being powered with two 18 cylinder Napier Deltic engines.  The first diesel electric locomotive for the railway modernisation scheme was handed over to British Rail.
1962Vulcan Foundry became the Vulcan Works of English Electric Company Limited. The variety of work was increased to include diesel engines for traction, marine and industrial applications.
1964By May of this year 1173 diesel and electric locomotives had been despatched from the works.
1965A Vulcan built 12 cylinder CSVT engine became the two thousandth English Electric diesel engine to be delivered to British Rail. This was installed in a Vulcan built standard type 3 diesel electric locomotive.
1966Ruston & Hornsby Limited and the English Electric Company Limited merged and formed English Electric Diesels Limited.
1968The English Electric Company Limited became part of the GEC Group of Companies.
1970Continuous locomotive production at Vulcan Foundry came to an end with the last main line locomotive to be supplied to Ghana Railways and Ports. Ruston Paxman Diesel Limited was formed as a management company of English Electric Diesels Limited with headquarters at Vulcan Works.
1972English Electric Diesels Limited changed its title to GEC Diesels Limited.
1975Ruston Diesels Limited became a separate company within GEC Diesels Limited.
1984Ruston success was rewarded with the presentation of the Queens Award for Export Achievements
1989The engineering Companies of GEC and Alcatel Alsthom formed GEC ALSTHOM
1990Four Ruston 16RK270 engines were the power behind Hoverspeed Great Britain winning the Hales Trophy (Blue Riband). The vessel was the first large passenger/car high-speed wave piercing fast ferry.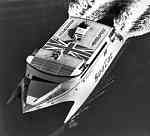 1998Three major contracts for the supply of diesel engines for rail traction saw the revival of Rustons involvement with railways.  Ruston success was rewarded with the presentation of the Queens Award for Export Achievements. GEC ALSTHOM floated on the Stock Exchanges as ALSTOM, Ruston and its sister companies became part of ALSTOM Engines Ltd. Catlink V, a larger version of Hoverspeed Great Britain and powered by 4 Ruston 20RK270 engines awarded the Hales Trophy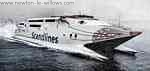 2000ALSTOM Engines Limited was acquired by MAN B&W Diesel AG and Ruston and its sister Companies became part of MAN B&W Diesel Ltd.  Ruston introduces its new RK280 range of engines.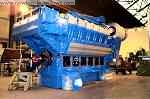 2001 On the 17th May 2001 the announcement was made to the employees at the Vulcan Works that, by the end of the year 2002, the site would be closed and the business transferred to the MAN B&W Diesel Ltd, Mirrlees Blackstone site at Stockport in Cheshire, England.
The History of Vulcan Works from 1830 to 2002 , Prepared by Malcolm Siberry,
Copyright 2000 ,MAN B & W Diesel Ltd.
Used with Permission