An old Indian Mutiny Veteran, who served diligently and faithfully throughout the mutiny of 1857-1858.
Having been asked by several, of my friends to give a short sketch of my eventful career, I have pleasure in dedicating to them my autobiography in the hope that they will at last confirm a statement I have often made, that I am a most singular man.
As it is about fifty-eight years ago since my enlisting in the army, I must respectfully request that my readers will forgive me for any mistakes I may have made herein.
Autobiography of Garret Ronayne, an I.M.V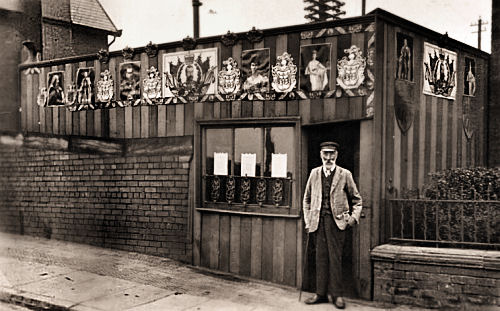 I am now in my seventy-ninth year ; and, as to home and birth, I was born and reared up to the age of seventeen at a place called Ferry Bank, in the county of Kilkenny, in or near the city of Waterford, with only the river dividing it, similar to Birkenhead and Liverpool.
My parents were both Irish. My father was a terra-cotta potter by trade, and also a licensed victualler at the same time.
At the age of seventeen I was apprenticed to the ship-smiths business in the Waterford dockyard of Mr. Albert White, where I remained about two years.
Finding that this kind of life was not romantic enough for me, I, along with three other companions, ran away from our trade, and tramped to Cork, a distance of about eighty miles, with the view of enlisting on a man-of-war, but, owing to some slight defect, we were debarred from so doing..
However, we enlisted in the late Honourable East India Companys service on March 8th, 1854, and were there and then directed to Mr. Sullivans rendezvous until it was convenient to send us by steamboat. to London, and from there to Whalley Barracks in Essex, which was the training ground "for our company, so as to prepare them and fit them up previous to sending the draft to India.
After a stay of about eight months at. Whalley, an order was given to prepare a draft. of 300 men to be forwarded to India, and we had strict orders to hold ourselves in readiness to march from Whalley to Gravesend, a distance of about eight miles, and to there board the sloop-ship " Wesley Wellington," consigned for Calcutta. This was about the beginning of November, 1854.
After a passage of three months and ten days, we landed at Calcutta, having had a fair passage with little or no sickness and few deaths.
From Calcutta we were drafted in carriages and coaches to Dum Dum, which is about seven miles from Calcutta. After a short stay here, we were ordered to proceed by steamboat up the Ganges river, about eighteen miles, to a place called Chinsura, where our regiment was then forming. My number when told off was 863, No. 3 Company 3rd Bengal European Regiment.
At Chinsura I met with a serious accident which left me in the hospital for over six months. Our doctor (Dr. Kanter) gave me up as hopeless, but nevertheless was very interested in my case, and ordered me to have a change of air by sending me through the Sunderbunds by steamboat. After a short time, a change for the better came over me, and, by the time I arrived at Allahabad, I was fit to join my regiment, who were on the march to Agra.
After a rest here, we were ordered to proceed to Dinapore, where we stayed for about a year. We then went back to Agra, and remained there until the Mutiny in 1857.
At this time India presented a very hostile appearance, and something like 8,000 Europeans–men, women, and children?flocked to Agra for our protection, no other regiment being in Agra at the time. Our numerical strength was only 550, our ranks having been reduced from 900 to this number through the dreadful cholera which was so prevalent in that part of India at that time.
On the 5th of July we received a challenge from no fewer than 9,000 of the Black Army to come out and fight them. Our colonel (Colonel Riddle) ordered us to parade, when he read the challenge out to us, and we gladly accepted it. Eventually the engagement took place at, Ducer, which is about five miles outside of Agra. It started about 9 a.m., and did not finish until about 6 p.m. Our regiment came in for a rough time, for we lost 250 brave men. We received the order to retire to Agra for the protection of the Europeans. My column was the Central India Field Force, under General Sir Hugh Rose, under whose command I served in many engagements. I also served under Generals Colvin, Polewell, Showers, Seaton, and others.
After the engagement at Ducer, we were told off to scout the country. On the 10th of October, 1857, the column from Delhi came to Agra, where we were stationed, and encamped with us. During the night the enemy stole their horses from the studs. We were given orders to get the horses back at any cost, for the guns were useless without them. We chased the enemy for miles until we overtook them near the river Nerbudda. Here we broke them up. A great many were drowned in endeavouring to swim the river, others ran in opposite directions, and many of these were cut up with our cavalry. We recovered the horses, guns, bag and baggage, and treasures.
We were encouraged with the belief that the treasures, etc., would be divided amongst us as " batty money," and notwithstanding that over fifty years have elapsed, I have not yet received my proportion. Although I have made repeated applications for the same, I have received nothing beyond favourable replies ; in fact, it is only within recent years that I have received my Indian Mutiny pension.
But I am wandering off the track. After the last incident, we returned to the garrison at Agra, where the Europeans were still requiring our protection.
Towards the end of the Mutiny our regiment was drafted to Gwalior. We stayed there a short time, and then marched to Agra. From Agra we went to Cawnpore, and on to Allahabad, then via flats through the Sunderbunds to Calcutta, where I obtained my discharge, at my own request, on November 9th, 1859 ; character good.
At this time we had two options:-
one, to go to China on board the steamboat "Tasmania," and the other to go to England by the sailing ship "Great Tasmania." I decided on the latter course, and set sail on November 11th, 1859. The passage was a dreary one, lasting four months and twenty-eight days. About fifty of our men died and were buried at sea, and two hundred more men were taken to the Liverpool Workhouse Hospital suffering from various ailments ? chiefly scurvy ? when we landed at Liverpool on March 17th, 1860.
I think my readers, after reading this account of my life, will now agree that I am most singular ; and as I sit near a cheery fire in my snug bungalow, and my mind goes hack to my younger days, and when I think of my many hardships and my ups and downs, I am grateful that I am now ending my days in comparative luxury and in wooing the muses, for I have written many verses on many subjects, and perhaps I could not do better than end my narrative by giving you a few lines which I consider appropriate to my life:-
Being that old age has of late taken a fast and firm hold on me, Though I do my endeavours to resist it the best way I can; But my spirit and principle have not as yet begun to fail me, Thereby enabling me to make known the facts of this matter as it ran.
And now that I have surmounted the top of the stupendous ladder, That done without having encountered a stumble, a slip, or a fall, Should merit be granted, am I not entitled to honour and credit For so thoughtfully outwitting the honoured and renowned poet of them all?
Therefore I shall persevere in poetry as long as God leaves me living, As it makes me happy and contented, with no need to feel shy. I also enjoy the friendship of my surrounding kind neighbours, And I shall leave behind me an unequalled record when I die.
============

In sorrowful, fond Memory of The late most Gracious Majesty,Queen and Empress.
Who bas been her Nation and Empires pride and Glory.
Now that Her Most Gracious Majesty has departed this life from amongst us,
Which leaves her Nation, likewise her Empire, in anguish, grief, and pain,
It is to be hoped that God in His mercy shall now reward her,
Being that her reign and power have ended without blemish or stain.
As a maid, wife, and mother, Her Majesty was chaste, humble, meek, and kind,
Also her ruling powers were noble, thoughtful, stern, wise, and keen,
In remedying all wrongs in which she considered needed and desirable,
So to justify her people who honoured and admired her as their Queen.
We were always delighted with her presence, also we glorified her name;
She has been honoured and respected in all nations where she has been;
But now that Her Majestys presence has been summoned from amongst us,
To our grief and sorrow to be never again amongst us or seen.
And as justice, kindness, and affection are Her Most Gracious Majestys due merit,
Is it not our bounden duty at least to offer up for her our prayer?
Have not regret, love, honour, and respect been shown universally towards her,
At home and abroad, within and all round almost everywhere ?
Therefore as a loving tribute to Her Most Gracious Majestys venerable memory,
We ought not, nor shall not allow that to be neglected or overseen,
Though her merits and demerits shall for ever and always remain with us,
Which will account for all and everything that Her Majesty has been.
Now that the Almighty has been pleased to call Her Majesty from amongst us,
For the future her son Albert Edward shall follow in her trail.
His Majesty has vouched, likewise promised, to rule and stand by us,
Until life and vigour in hint as our King and Emperor shall fail.
So let us now hope for him long life, prosperity, peace, and happiness,
His Majestys powers to hold also his pledge and promise to maintain,
To be for ever and always mindful of his duty to our nation,
If guided by her sterling example, his reign and power shall end the same.
And should His Majestys pledge prove in accordance with his promise,
It must add lustre to His Majestys fond mothers glorious untainted reign,
Hoping that his exalted position that he has now undertaken
Shall bring home to His powerful Majesty glory, honour, and fame.
============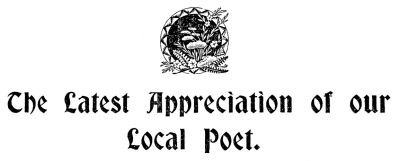 (Reprinted from the Northern Daily Telegraph of June 14th, 1900.)
Mr. Garret Ronayne dwells at the Bungalow, Bridge Street, Earlestown. He is an Indian Mutiny veteran; also a poet.
This morning he sends us two sets of verses, for which, "as a subscriber," he asks us to find room. We are prepared to do a great deal for a subscriber, but there are limits, and Mr. Ronayne must excuse us if we do nothing more than give the public a taste of his quality. "Gods Will and Mans Power" is the impressive title of one of these war "poems." It starts off at a gallant trot thus 😕
Now that the Winter is gliding over,
And we are fast bordering on Spring,
The trees are beginning budding,
And the birds have started to sing.
The corn is springing fresh and green,
And the weather is bright and clear;
Should we have a prosperous harvest,
In good time we shall mow and shear.
This is an indisputable truth, compactly stated. Then we come by a natural transition to the war, its injustice, and its horrors, and the poet proceeds 😕
Facts as happened and as here related,
Are they not horrible in the extreme ?
Have they not forfeited friends, home, and parents
To sacrifice their lives for Englands glory, honour, and fame?
As yet there is but little or no signs of relenting,
For such suffering is making the united hearts so sore,
Hearing of the many deaths that have and are still taking place,
On and all round that foreign distant shore.
As to what ought or is to be the recompense,
We cannot surmise, neither are we allowed to know,
Until the war is all over and settled,
Then, like all winning cocks, well clap our wings and crow.
So as to reconcile and to end so determined a strife,
As that monstrous power is invested in man,
To forgive and forget, so to be kind to your neighbour,
At the eleventh hour pray do that in which you can.
There is a little incoherence in the last verse, but we are sure the sentiment is admirable. And, after all, are not most poets incoherent ? Browning could not explain himself sometimes, and Algernon Charles latest performance would puzzle a Philadelphian lawyer. There is another set of verses from our Indian Mutiny veteran, in which he deals more explicitly with the war; but "enough is as good as a feast."
============
(From "The Northern Daily Telegraph" of August 8, 1912.)
Readers of the " Telegraph" will have wondered, like ourselves, whether anything untoward had befallen Mr. Garret Ronayne, the Earlestown poet. It is many months since anything reached us from his facile pen. The explanation is that he has been engaged upon his magnum opus in the shape of an autobiography, which has just seen the light, and tells the story of the Indian Mutiny veterans life in graphic phrase. He has done this in obedience to the suggestion of friends, and in the hope that the facts will establish what he has all along claimed?that "he is a most singular man." In that aim the autobiography is entirely successful. No life would be complete which failed to take note of the "Telegraphs" constant and generous appreciation of Mr. Ronaynes poetical gifts. The recognition is there all right in the form of a paragraph from "Table Talk."
Mr. Ronayne is in his 79th year. His exact position in the firmament of the poets we leave posterity to assign. Two verses from the autobiography, gems of purest ray serene, will indicate the quality of his genius, and help to a right judgment of his powers.
Being that old age has of late taken a fast and firm hold on me,
Though I do my endeavours to resist it the best way I can;
But my spirit and principle have not as yet begun to fail me,
Thereby enabling me to make known the facts of this matter as it ran.
And now that I have surmounted the top of the stupendous ladder,
That done without having encountered a stumble, a slip, or a fall,
Should merit be granted, am I not entitled to honour and credit
For so thoughtfully outwitting the honoured and renowned poet of them all?


I have, during my time, submitted to His Late Most Gracious Majesty King Edward, seven letters and copies of my poems, and have received seven letters of acknowledgment and thanks, which I consider a great honour,. no other of His Majestys subjects having received such a distinction for writing poems on matters which affected His Majesty, and on other matters of great national importance.

Printed by J. H. LANE, PRINTER AND BOOKBINDER. 1912.
DEDICATION.
GARRET RONAYNE, The Bungalow, Bridge Street, Earlestown, July, 1912.
---
This text is transcribed by Steven Dowd from original material, published by J.H Lane c1912
If there are vocabulary errors or spelling mistakes in the transcription i can only apologise, because you can more than likely directly blame me for them.
This transcription, its errors and omissions are my own transcription from the original published text and are copyright steven Dowd, if you plan to use this text on your website, please inform me before use.
I must thank the Newton Library Staff for being so helpfull, I seem lately to be constantly asking them to dig out old local litrature, and they always manage to find exactly what I am looking for.
©2006 – Steven Dowd
steven.dowd@newton-le-willows.com
https://www.newton-le-willows.com
---