From the first year of the reign of Queen Elizabeth (1558) down to 1832, Newton was represented in Parliament by two members, and just before its disfranchisement in 1832, its 500 families were of more account in the State than Manchesters 50,000, Lancashire having 14 members for its six boroughs of Clitheroe, Lancaster, Liverpool, Newton, Preston, and Wigan.
In 1558 the two representatives for Newton were Sir George Hawarde and Richard Chetwoode, Esq. Its Political Importance

During the 274 years from 1558 to 1832, Newton was represented by no fewer than 70 different members, and from 1678 (the year the name "Tories" was given to a political party) it was represented exclusively by 30 Tories. In this list of members are found the names of the lords of the manor?the Langtons, the Fleetwoods, and the Leghs?and many gentlemen of rank and importance in the country.

It was represented for six years (1695 to 1701) by Thomas Brotherton, Esq., of Old Hey Farm, situated near the Vulcan Foundry. For twenty-nine years (1714 to 1743) it was represented by William Shippen, Esq., mentioned by Alexander Pope, in his "Imitations of Horace," as "downright Shippen" in allusion to his outspokenness.

During the reign of George I. (in 1717) Shippen was committed to the Tower for reflecting on the kings speech, the honourable member having said " that the second paragraph of the speech seemed rather to be calculated for the meridian of Germany than of Great Britain, and that the king was a stranger to our language and constitution."

The nomination of members of parliament was in the lord till the year 1620, after which time the franchise became vested in the free burgesses, that is, in persons possessing freehold estates in the borough, of the value of 40 shillings. a year and upwards, of which there were about sixty who claimed to vote; but the burgage tenures being chiefly in the lord of the manor, the nomination of the members was as much in him after the right came nominally into the hands of the burgesses as it was before that time, and hence Newton ranked among the nomination boroughs that returned two members, that is, up to the period of its 1832 disfranchisement.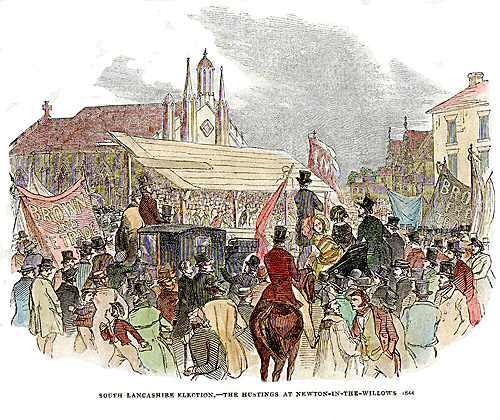 The South Lancashire Elections 1844. This is a view of the Hustings (electorial meeting) held ouside St Peters Church, Newton High St (no tower on church, and Obelisk just showing behind the stand). The banners declare BROWN for FREE TRADE

Newton - a little poor market Leland called it - first sent Members to Parliament in 1559. No authority has been found for its enfranchisement, but its first Members were not challenged in the House.

The 1559 return is to testify that we, the free men of the borough of Thomas Langton, knight, baron of Newton ... have elected Sir George Howard and Richard Chetwode Esquire, with the assent of the burgesses, to Parliament.

The return was signed by Sir Ambrose Cave, chancellor of the duchy of Lancaster, and by William Fleetwood I`, the steward of the said borough. Fleetwood had many connexions with the duchy and in addition was related to the Langtons. This last fact probably explains why the duchy picked on Newton when it set out to obtain the enfranchisement of an extra borough.

The names of the first two Members indicate that if Cave and Fleetwood were responsible for the enfranchisement of the borough, the deal was concluded through Sir William Cecil, who was given in return the nomination of the 1559 MPs. One of them was the brother of Queen Catherine Howard, Queen Elizabeths cousin no less. The other described Cecil as his dear father, and Cecils interest in him is apparent from his noting Mr. Chetwoods case as a subject for attention the day after Elizabeths succession.

Francis Alford (1563) also had connexions with Cecil, but here the resemblance between 1559 and 1563 ends, for the second 1563 Member, Ralph Browne, was a protege of Cave, whose will he witnessed (unless, of course, there is confusion here with another man of the same name).

Both 1571 men were connected with the Exchequer, Anthony Mildmay through his father Sir Walter, and Richard Stoneley through the new chancellor of the duchy Sir Ralph Sadler. John Savile I (1572) had a connexion with the duchy and John Gresham (1572) With William Fleetwood I.

The influence of the duchy now came to an end, for by 1584 the grandson and heir of Sir Thomas Langton (d.1569) was of age, and for the rest of the reign he chose the Members, with the single exception of William Cope (1597) who seems to have owed his seat to Cecil.

The Langtons were Catholics, though Robert (1584, 1586) conformed, and Thomas Langton himself did not sit while he owned the borough.

In 1594, however, he sold it to the Fleetwoods with the nomination, election and appointment of two burgesses of the Parliament.

In 16o1, when Langton needed to avoid his creditors, he arranged to be returned to Parliment and the other 1601 MP was the steward of the borough.

By this time Newton had a second borough official in the bailiff, who acted as returning officer.

For seven years (1818-1825) it was represented by Thomas Claughton, Esq., of Haydock Lodge, the father of two dignitaries of the Church?Thomas Legh Claughton, Bishop of Rochester, afterwards Bishop of St. Albans, and father of the present chairman of the L. & N. W. Railway; and Piers Calveley Claughton, first Bishop of St. Helena, then Bishop of Colombo, and afterwards Archdeacon of London. The latter was christened and con-firmed in Newton Church, and in 1859 gave an address to the school-children on the occasion of the laying of the foundation-stone of St. Peters Schools. The last two members were Thomas Legh, Esq., and Thomas Houldsworth, Esq.

Untill the year 1832 Newton retained so much of its ancient dignity, that it returned two members to parliament. This was not, however, amongst the number of the ancient Lancashire boroughs; for the earliest exercise of the privilege is only of the date of the first of Elizabeth, at which time the members were nominated by the steward of the lord of the barony,* and with the assent of the lord of Newton. Though no corporate body, Newton has these arms assigned to it, viz.: Out of a ducal coronet, a rams head holding in his mouth a sprig.

After its disfranchisement in 1832, Newton became a polling station for the election of members for the division of South-West Lancashire. In 1865 Mr. Gladstone was returned as one of those members, defeating William John Legh, Esq., who had held the seat since 1859. Many of us remember Mr. Gladstones visit to Newton, his speaking from the hustings alongside the Town Hall, and the presentation of an address to him by Mr. John Ball and Mr. Robert Palmer, on behalf of the Liberal Party, in the Legh Arms Hotel. At the General Election of 1868 Richard Assheton Cross, Esq., defeated Mr. Gladstone by 313 votes, and remained one of its Tory members until 1885, when the Redistribution Act was passed, making Newton a separate division with one member. In that year the late Colonel McCorquodale entered the lists against Mr. Cross, but was defeated by a majority of 383. On Mr. Crosss elevation to the House of Lords, in 1886, Thomas Wodehouse Legh, Esq., contested the division, and was returned with a majority of 70 7 over his opponent, Mr. D. OConnell French. Mr. Legh held the seat until the death of his father in December, 1898, and his own consequent elevation to the House of Lords, when the late Colonel Richard Pilkington was returned unopposed. He continued. its member until the election in January, 1906, at which he was defeated by Mr. James Andrew Seddon.

LIST OF THE MEMBERS FOR NEWTON, FROM 1558 TO 1831.

1558.9. Geo. Haward, knt.? Rich. Chetwood
1563. Francis Alford, Esq.? Ralph Browne, Esq.
1571. Anthony Mildmay, Esq.? Thos. Stoneley, Esq.
1572. John Gresham, Esq.? John Savile, Esq.
1585. Robert. Langton, Esq.? Edw. Savage, Esq.
1586. Robert. Langton, Esq.? Edw. Savage,
1588. Edw. Trafford, Esq.? Robert. Langton, Esq.
1592. Ed. Trafford, Esq.? Robert. Langton,
1597. WILLIAM COPE - GEOFFREY OSBALDESTON
Robt. Langton, Esq.
1601. Thos. Langton, baron of Walton.? Rich. Ashton, gent.
1603. John Luke, knt.? Rich. Ashton, gt.
1614. Miles Fleetwood, knt.? Thos Gerard, knt.
1620. Geo. Wright, kt.? Rich. Kippax, Esq.
(Assensu Ric. Fleetwood Baronetti Domini villa;)
1623. Thos. Chernock, Esq.? Edm. Braes, gent.
1625. Miles Fleetwood, knt.? Hen. Ed-wards, knt.
1625. Miles Fleetwood, knt.? Hen. Edmonds, knt.
1628. Hen. Holcroft, knt.? Francis On-slow, knt.
1640. Rich. Wynne, knt. and bart.? Will. Lambert, Esq.
1640. W.Ashurst,Esq.? Roger Palmer,knt.
Peter Brook, Esq.
1653-4-6. No returns.
1658-9. W.Brereton,Esq.? Peers Legh,Esq.
1660. Rich. George. ? Rich. Leigh
1661. Rich. George. ? Rich. Leigh
1678. Sir J. Chichley.? Andrew Fountain.
1681. Sir J. Chichley. ? Andrew Fountain.
1685. Sir J. Chichley. ? Peter Leigh.
1688. Sir J. Chichley. ? Francis Cholmondeley.
1690. John Bennett ? Geo. Cholmondeley.
1695. Leigh Banks ? Thomas Broughton.
1698. Thomas Leigh ? Thomas Broughton.
1701. Thomas Leigh ? John Leigh.
1702. Thomas Leigh ? John Ward.
1705. Thomas Leigh ? John Ward.
1708. Thomas Leigh ? John Ward.
1710. Thomas Leigh ? John Ward.
1713. Abraham Blackburne ? John Ward.
1714. Sir Francis Leicester ? William Shippen.
1722. Sir Francis Leicester ? William Shippen.
1727. Leigh Master ? William Shippen.
1734. Leigh Master ? William Shippen.
1741. Leigh Master ? William Shippen.
1747. Peter Leigh ? Sir Thomas Grey Egerton.
1754. Peter Leigh ? Randal Wilbraham Bootle.
1761. Peter Leigh ? Randal Wilbraham Bootle.
1762. Peter Leigh ? Randal Wilbraham Bootle.
1768 Peter Leigh ? Anthony J. Keck, Esq.
1774. Robt. V. A.Gwillim,Esq. ? Anthony J. Keck, Esq.
1780. Thos. Peter Leigh, Esq. ? Thomas Davenport, Esq.
1784. William Peter Leigh, Esq. ? Sir Thos. Davenport, knt.
Thomas L. Brooke, Esq.
1790. Thomas L. Brooke, Esq. ? Sir Thos. Davenport, knt.
1796. Thomas L. Brooke, Esq. ? Sir Thos. Davenport, knt.
Thomas L. Brooke, Esq.
Peter Patten, Esq.
1801. Thos. Brooke, Esq. ? P. Patten, Esq.
1802. Thos. Brooke, Esq. ? P. Patten, Esq.
1806. Thos. Brooke, Esq. ? Peter Heron, Esq.
1807. Thos. Brooke, Esq. - Peter Heron, Esq.
1812. J. J. Blackburne ? Peter Heron, Esq.
1819. Thomas Claughton ? Thos. Legh.
1820. Thomas Claughton ? Thos. Legh.
1826. Thos. Alcock ? Thos. Legh.
1830. Thos. Houldsworth ? Thos. Legh.
1831. Thos. Houldsworth ? Thos. Legh.


The British Reform Act of 1832 introduced the first changes to electoral franchise legislation in almost one hundred and fifty years. It met strong opposition from the Tories, who had defeated earlier bills, and it required pressure on William IV and the resignation of Earl Greys Whig government to pass.

The Act extended the franchise into the middle classes. Propertied male adults paying a annual rent of ?10 or more (?2 in the rural counties) could vote. The vote was also extended to those with copyhold tenure of ?10 or more and leaseholders or tenants-at-will paying ?50 in rent. These changes increased the electorate from 435,000 to 652,000 (1 in 7 males) and gave greater political influence to urban centres in the north while leaving the rural areas under aristocratic control. The Act also abolished 56 rotten boroughs and removed one MP from boroughs with less than 4,000 inhabitants. Before the Great Reform Act of 1832 it was a rotten or pocket borough, one which sent two members to Parliament but which had a tiny electorate controlled by the local magnate, who therefore had the election ?in his pocket?. It is said that when somebody referred to a particularly egregious example of a rotten borough, say one in which every voter was a man employed by the landowner

The term rotten borough (or pocket borough, as they were seen as being "in the pocket" of a patron) refers to a parliamentary borough or constituency in the Kingdom of England (pre-1707), the Kingdom of Great Britain (1707-1801) and the Kingdom of Ireland (1536-1801) which due to size and population, was controlled by a patron and used by a patron to exercise undue and unpresentative influence within parliament. Though rotten boroughs existed for centuries the term rotten borough only came into usage in the 18th century.

In such constituencies and boroughs, due to the small number of electors, the post of Member of Parliament could effectively be bought. Because the constituencies were not realigned as population shifts occurred, MPs from one borough might represent only a couple of people (giving those people a relatively large degree of political representation), whereas entire cities (such as Manchester) might have no representation at all. Examples include: Old Sarum in Wiltshire had eleven voters, Dunwich in Suffolk had 32 voters, Plympton Earle with 40 voters, and Newtown on the Isle of Wight with 23 voters (all figures for 1831). All of these boroughs could elect two MPs. At one point, out of 405 elected MPs, 293 were chosen by less than 500 voters. (Spielvogel) Many such rotten boroughs were controlled by peers who gave the seats to their sons, they thus having influence in the House of Commons while also holding seats themselves in the House of Lords. The Duke of Wellington, prior to being awarded a peerage serveed as MP for the rotten borough of Trim in County Meath in the Irish House of Commons.

In addition, there were boroughs where parliamentary representation was in the control of one or more patrons by their power to either nominate or other machinations, such as burgage. Patronage and bribery were rife during this period. In some cases, wealthy individuals could "control" multiple boroughs -- the Duke of Newcastle is said to have had seven boroughs "in his pocket". In the 19th century measures began to be taken against rotten boroughs, notably the Reform Act of 1832 which abolished most rotten boroughs and spread parliamentary seats based on population, not past history of parliamentary representation. The introduction of the secret ballot helped prevent patrons from controlling districts, as they could no longer examine an individuals vote prior to its casting, electors as a result for the first time having the freedom to cast votes as they, not their landlord, wished.

Today, "rotten borough" is sometimes used to refer to a parliamentary constituency in which one particular political party has such massive support that its candidate is effectively uncontested. It is also used to refer to allegedly corrupt branches of local government - Private Eye has a column entitled Rotten Boroughs which lists stories of municipal wrongdoing.

A pocket borough was a parliamentary constituencies owned by one man who was known as the patron. Since the patron controlled the voting rights, he could nominate the two members who were to represent the borough. Some big landowners owned several pocket boroughs. For example, at the beginning of the 18th century, the Duke of Devonshire and Lord Darlington both had the power to nominate seven members of the House of Commons. Others, like Lord Fitzwilliam and Lord Lonsdale had even more seats under their control. All these men also had seats in the House of Lords.

Even those in favour of parliamentary reform had to to accept this system in order to be elected to the House of Commons. Henry Brougham developed a reputation as a lawyer with progressive views. This brought Brougham to the attention of the leaders of the Whigs. One of the Whig aristocrats, the Duke of Bedford, offered Brougham, the parliamentary seat of Camelford. The constituency only had thirty-one voters and they were all under Bedfords control. In 1812 Bedford sold Camelford to the Earl of Darlington for ?32,000. Brougham, who represented the constituency, now had to find another seat. Four years later the Duke of Bedford sold another one of his seats, Okehampton in Devon, to Albany Savile for ?60,000.

Men in favour of parliamentary reform were often forced to represent pocket boroughs. Sir Philip Francis the MP for Appleby wrote to a friend describing how had been "unanimously elected by one elector to represent the ancient borough of Appleby... there was no other candidate, no opposition, no poll demanded." He added that "on Friday morning I shall quit this triumphant scene with flying colours and a noble determination not to see it again in less than seven years."

The right to vote in Dorchester had been granted to all people who paid church and poor rates. The 6th Earl of Shaftesbury owned only half of the 408 houses in the town. To make sure he always controlled the constituency, the Shaftesbury leased out derelict plots of land to his friends during elections. This gave them the vote and guaranteed that Shaftesburys candidates always won. This including his son, Anthony Ashley Cooper, who inherited his fathers title in 1851.

Other political reformers such as Sir Francis Burdett also entered parliament in this way. In 1797 Burdetts wealthy father-in-law Thomas Coutts purchased the borough of Boroughbridge in Yorkshire from the Duke of Newcastle for ?4,000. Coutts gave the seat to his son-in-law and later that year Francis Burdett became a member of the House of Commons.

Prospective members of the House of Commons used a variety of different methods to persuade people to vote for them. Some gave money or gifts while others offered them jobs. This could be an expensive business. Sir Francis Burdett left the pocket borough of Boroughbridge and decided to stand for the more democratic Middlesex seat. He was elected for Middlesex in 1802, but was defeated in the elections held in 1804 and 1806. It has been estimated that Burdett spent ?100,000 during these two elections.

In Wooton Basset there were 309 eligible votes and the account books of the boroughs patron, Joseph Pitt show that he was having to pay them from 20 to 45 guineas a head to guarantee they would vote for his two candidates. Other patrons used threats rather than bribes. A wealthy landowner might warn tenants that they would be evicted if they did not vote for his candidate. People such as shopkeepers, trades people, solicitors and doctors were sometimes threatened with an organised boycott of their business if they did not do as they were told.

At the General Election in January, 1910, the seat was vainly contested by Viscount Wolmer, Mr. Seddon being returned by a majority of 752; but, at the election in December of the same year, Newton reverted to its former allegiance, and returned Viscount Wolmer by a. majority of 144.

SOUTH LANCASHIRE ELECTION, 1844.-The nomination of the candidates for this division took place at Newton in the Willows, on a temporary hustings erected in front .of the church and facing the Horse and Jockey Inn. There were present about 4,000 persons. W. Brown, Esq., was the Free-trade candidate, and Mr. Entwistle the Tory candidate. After the candidates had addressed the electors, a show of hands was taken, which resulted in favour of Mr. Entwistle. A poll was demanded, and the contest closed with a majority of 573 for Mr. Entwistle. A total of 14,458 votes was recorded at Newton, Ashton-under-Lyne, Bolton, Bury, Manchester, Old-ham, Rochdale, Liverpool, Ormskirk, and Wigan.

The Newton Division comprises the townships and parishes of Ashton, Billinge, Burtonwood, Eccleston, Golborne, Hay-dock, Newton, Poulton-with-Fearnhead, Rainford, Rainhill, Rixton-with-Glazebrook, Sankey, Winwick, Woolston-with-Martinscroft, and the freeholders of St. Helens and War?rington, and numbers 15,069 electors.


---


Transcribed from various sources by Steven Dowd for use in the Newton le Willows website ©2005


---