the history of our local area
Some sections of this website make use of Adobe Flash objects, your browser doesn't allow these objects
to run, you can download the needed adobe flash component for your browser type, from this
link
for free.
---
Paypal Donations

Donations are appreciated, and help with the costs of keeping the website online and free
Links to Local Book Lists
Content & Copyright
Most all items in the gallery are scanned from items owned by Steven Dowd, a few items in the gallery have been scanned from photos or postcards owned by others, and are shown here with their permission
The content and Images within this website, unless otherwise noted, are the copyright of Steven Dowd ©2001-2009.
| | | |
| --- | --- | --- |
| Congregatonal Church - Crow Lane East - N-le-W | | |
Written by Steven Dowd
This is the Congregational Church on Crow Lane East, originally this was just the sunday school building of the original Church.







Click the Read More link below to see the a Photo of the Original Congregational Church and this Sunday School Building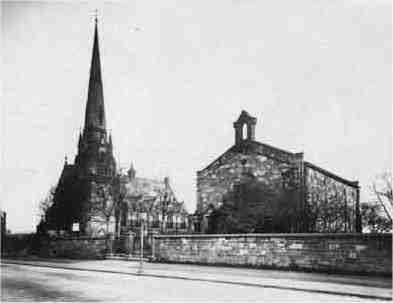 The Newton Congregational Church, Crow Lane.
The Evans family were connected with this church for over sixty years. The building on the right was the original church built in 1842 by the brothers Joseph and Josiah Evans.
The spired church on the left was completed in 1878 and the original chapel converted to a Sunday school at a cost of ?1 o,ooo, of which the Evans family provided about ? 7, 000. In this century the spired church developed dry rot and was demolished in the 1960s, the congregation returning to the original chapel where they still worship today.